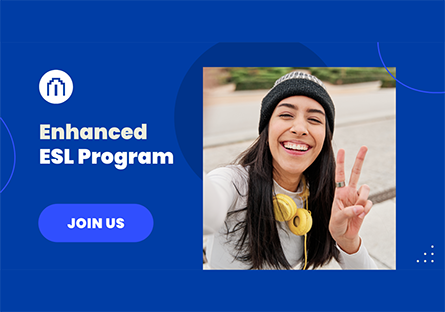 Paradise Valley Community College is rooting for your success! Whether your goal is to prepare for academic study, enhance your career, or simply develop personally and understand the country's native tongue better, PVCC's English as a Second Language (ESL) courses are essential.
PVCC offers beginning through advanced-level ESL classes in grammar, writing, pronunciation, reading, and listening and speaking. Courses include English composition classes designed specifically for college students who are nonnative speakers of English. Both daytime and night classes are available and listed here.
"We are very excited to start this new academic year. We have a more flexible schedule, new class offerings, and motivated faculty who are ready to help students achieve their goals," said Dr. Leila Palis, director of PVCC's ESL program.
More Resources at Your Disposal
Provides low cost English Language Learning Services for noncredit ESL groups and English grammar workshops and conversation groups. Classes have both day and evening options and are open to residents and nonresidents.
The campus library has a special section of reading materials and resources specifically for nonnative English speakers. Students can also access online movies, journals, magazines, and newspapers through the Library's Database.
Get Started Today
The CELSA placement test will tell you which classes you should register for. The CELSA placement test is required before you register for classes. Currently, you can take the CELSA placement test in-person at the Testing Center. Please visit the Testing Center's CELSA page for more information.
For additional information, contact Palis at leila.palis@paradisevalley.edu.
________________________________________________________________________
¡El Colegio Comunitario de Paradise Valley apoya tu éxito! Ya sea que tu objetivo sea prepararte para los estudios académicos, mejorar tu carrera, desarrollo personal, así como también comprender mejor la lengua materna del país, los cursos de inglés como segundo idioma (ESL) de PVCC son esenciales para tu crecimiento.
PVCC ofrece clases de inglés como segundo idioma (ESL) de nivel inicial a avanzado en gramática, escritura, pronunciación, lectura y comprensión auditiva y expresión oral. Los cursos incluyen clases de composición en inglés diseñadas específicamente para estudiantes universitarios que no son hablantes/parlantes nativos de inglés. Las clases están disponibles en diferentes horarios. Checar horarios aquí: 
"Estamos muy emocionados de comenzar este nuevo año académico. Tenemos un horario más flexible, nuevas ofertas de clases y profesores motivados que están listos para ayudar a los estudiantes a alcanzar sus metas", dijo la Dra. Leila Palis, Directora del programa ESL de PVCC.
Recursos a su disposición
Brinda servicios de aprendizaje del idioma inglés a bajo costo para grupos de ESL sin crédito y talleres de gramática y grupos de conversación en inglés. Las clases tienen opciones de día y de noche y están abiertas a residentes y no residentes.
La biblioteca del campus tiene una selección especial de materiales de lectura y recursos específicamente para estudiantes que no hablan el idioma inglés. Los estudiantes también pueden acceder a películas, diarios, revistas y periódicos en línea a través de la base de datos de la biblioteca.
¡Empieza hoy!
El examen de colocación de CELSA te dirá en qué clases debes inscribirte. Es mandatorio que tomes el examen de colocación de CELSA antes de registrarse para las clases ingles como segunda lengua. Actualmente, puedes realizar el examen de colocación de CELSA de forma presencial en el Centro de Exámenes de Colocación (Testing Center). Visite la página de CELSA del Centro de Exámenes de Colocación para obtener más información.
Para obtener información adicional, comuníquese con la Dra Palis al siguiente correo electrónico: leila.palis@paradisevalley.edu