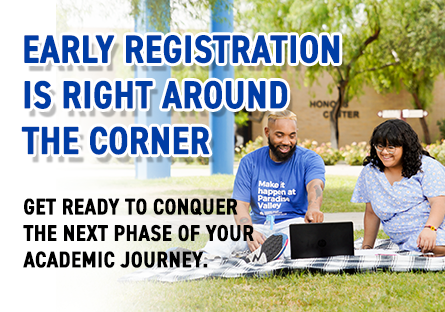 Early registration is right around the corner here at Paradise Valley Community College, so get ready to conquer the next phase of your academic journey.
Priority registration for current PVCC students begins March 6; open registration begins March 20 for both summer and fall 2023 sessions.
Choose Your Path
The Maricopa County Community College District (MCCCD) Fields of Interest format has made it much simpler for students to develop a plan for their academic journey and create a path to success. With nine Fields of Interest (FOI) in which to pursue a degree, students can narrow their path, saving time and money, while connecting to like-minded people with similar goals and interests.
The FOIs available at PVCC include: Applied Technology; Behavioral Science and Human Services; Business, Entrepreneurialism, and Management; Computer and Information Technology; Culture and Society; Education; Health Sciences; STEM; and Visual and Performing Arts.
Things to Keep in Mind
For returning students – Schedule an appointment with your advisor. Make sure your program is updated in the system and ask as many questions as possible.
For new students – First, complete the application process. Be sure to have your high school transcript sent to PVCC and/or make sure to take your placement test if you do not have a 2.65 GPA.
For transfer student – Schedule an appointment with an advisor to determine the correct classes for your transfer path.
Keep in mind, all new and transfer students must enroll in FYE101 or FYE103. We recommend you enroll in your first semester. Discover which one is right for you.
PVCC Now Offers BA in Education
PVCC's Education program just got even more exciting with the addition of a Bachelor of Arts (BA) degree in Elementary Education and Special Education. The bachelor's programs – Kindergarten through Eighth Grade General Education Teaching and Kindergarten through 12th Grade Special Education Teaching – are the first four-year degrees offered at PVCC, commencing Fall semester 2023. Attend an information session here or read more about this exciting new opportunity here.
PVCC's Education BA is the whole package – start to finish! Incoming and second year students can complete their prerequisites and transition right into their BA requirements for years' three and four. With three classroom models available – online, hybrid, or in person – coupled with flexibility and a dynamic, engaging curriculum, hands-on learning, and full immersion in PVCC's outreach programs through our public and charter school partnerships, students acquire an all-encompassing experience. Learn more here.