Monday, February 13, 2023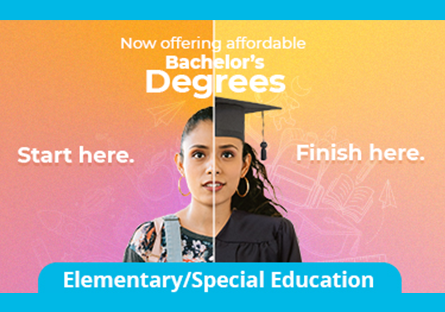 Paradise Valley Community College is launching a Bachelor of Arts (BA) degree in Elementary Education and Special Education. The bachelor's programs – Kindergarten through Eighth Grade General Education Teaching and Kindergarten through 12th Grade Special Education Teaching – are the first four-year degrees offered at PVCC, commencing Fall semester 2023.
"We couldn't be prouder and more excited to offer students the chance to ignite their love of teaching right here as a Puma, helping to change children's lives," said Meggin Kirk, PVCC education program director, and residential faculty. "Our program is the whole package – start to finish! Incoming and second-year students can complete their prerequisites and transition right into their BA requirements for years three and four. It's that simple."
Kirk explained that students receive a comprehensive experience at PVCC, with three classroom models available – online, hybrid, or in-person. Coupling this flexibility with a dynamic, engaging curriculum, hands-on learning, and full immersion in PVCC's outreach programs through our public and charter school partnerships, students acquire an all-encompassing experience.
Students agree. Anicia Leon, a PVCC education student, who also works as a teacher development center coordinator, is looking forward to continuing on in PVCC's education program. "I think the familiarity eases the school year stress," she said. "PVCC offers a fantastic environment to work in, as well as equally fantastic support."
"I'm excited about continuing the relationships I've made on campus for the past three years and the many more I'll make as I further my education here," said Sara Todd, PVCC student. "One of the biggest struggles about college is affordability and financial security is something PVCC has always been able to provide me. We are extremely fortunate to have this lower-cost opportunity while being provided with leaders we already have relationships with that go far beyond measure to help us achieve this goal!"
PVCC's bachelor's program is flexible and affordable with personalized support; even the required practicum hours (teacher assistant) have been designed to accommodate students' hectic lives with Instructional Assistant Flex positions offered through Paradise Valley Unified School District (PVSD), enabling students to easily complete their field experience requirements.
"PVCC's partnership with PVUSD and the Volunteer in Paradise College Corps (VIP) program provides exceptional field service experiences for our students to better prepare them as future educators, while at the same time, growing our teacher pipeline in today's shortage," Kirk continued. 
10-Year Partnership Ready for Next Level
For a decade now, PVCC has partnered with PVUSD, utilizing the intersection of volunteerism and field experience to create an exceptional opportunity for college students to serve early on. 
The program will continue to: 
Place first- and second-year college students with inspiring teachers eager to mentor them.
Match students and teachers based on specific areas and levels of interest.
Facilitate strong relationships between teachers in training and college instructors, teachers, school communities, and principals.
Enable students to earn letters of recommendation and teachers to earn professional development hours toward recertification.
PVCC students can also access various programming, including literacy nights, STEAM nights, Festival of Tales, and structured autism events, as well as Club Ed.
"At Festival of Tales, I get the opportunity to interact with families and engage them with fun, creative activities, creating real-life encounters similar to teaching," said Leon. 
While Todd added, Club Ed fosters a "warm-knit community of love and support for all. Club Ed enlightens and engages future educators whether on the campus of PVCC or via online. My fellow education major colleagues and I have had the opportunity to visit different high schools and meet the faces of the next generations' future educators so desperate to change the world." 
Learn more at Maricopa Information Sessions
Starting this month, Maricopa County Community College District is offering multiple informational sessions virtually. The sessions will cover all three locations where Maricopa County Community College District offers the BA – Paradise Valley, Glendale, and Rio Salado.
Thursday, February 16, 12 PM and 6 PM
Tuesday, March 7, 7 PM
Monday, April 3, 11 AM and 6 PM  
Wednesday, April 26, 5 PM
Monday, May 15, 6 PM
Wednesday, June 7, 6 PM
Wednesday, July 19, 6 PM
RSVP for an information session HERE.
Things to Know Before You Register
Applications open mid-March, however, there are specific requirements that must be completed before admissions. Meet with your advisor to make sure you're on track to complete the required courses to apply for the program
Completion of Associate in Arts, Elementary Education (AAEE) OR equivalent coursework, including all prerequisite courses. (NOTE: Meet with your academic advisor to see if you need to take any course in the spring or summer 2023 semester)
Completion of the Arizona Constitution and United States Constitution course(s).
Valid Identity Verified Print (IVP) Fingerprint Clearance Card
Two reference forms
Passing score on the Arizona Educator Proficiency Assessments, Elementary Subtest 1 and 2
For more information, visit www.maricopa.edu/teach.