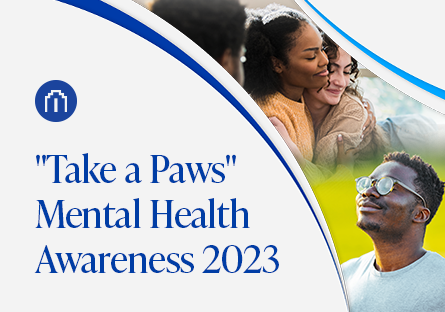 As we approach finals and mental health awareness month, we encourage our community to take advantage of our "Take a Paws" event schedule. 
A few "Take a Paws" highlights include:
April 29th:  PVCC Out of the Darkness Suicide Awareness Walk at 8:30am - Registration required
May 1-May 5: Stress Free Zone in Student Life 9am-5pm, student life meditation room. Supplies will be available for students to journal, color, do yoga, and play small games like Rubiks cubes
May 2:  "Don't Be Stressin'" with Dr. A., 12pm-1pm, Intercultural Center. Learn more about strategies to identify and combat stress. A variety of ice cream treats available for attendees (while supplies last)
May 3: Puma Empowerment Center Preview Day and Resource Fair, 11am-1pm, L Building Patio Area. Get a sneak peek of the newest PVCC resource and community partnership to serve student food and professional clothing needs. RSVP Here.
May 4: Therapy Dogs, 11am - 1pm, Cordova Plaza.
May 24:  Mental Health of the Military Family, 12pm-1pm, Virtual Panel.
Wednesday, May 24 · 12:00pm – 1:00pm
Time zone: America/Phoenix
Google Meet joining info
Video call link: https://meet.google.com/bpb-tvkc-nro
Or dial: (US) +1 929-249-3632 PIN: 733 462 931#
A team from academic affairs and student affairs have collaboratively developed these opportunities for us to take good care of our students (and ourselves).
Counseling and the CARE Team remain available to assist students with resources to support their health and well-being. Please refer a student and/or submit a report so that we can assist our PVCC family during this difficult time.
In addition, this may be a good time to remind you all that you have access to mental health resources through our district EAP program.
EAP benefits are available to all MCCCD employees (including part-time and adjunct), their dependents up to age 26 even if they live out of the home, and anyone in the employee's household (regardless of their relationship, age or health insurance coverage). For example, roommates or if you live with and care for an elderly family member they are also eligible for services.
For more details, call Call 888-238-6232, TTY: 711 or  go to: https://maricopa.sharepoint.com/sites/DO/human-resources/benefits/Pages/EAP.aspx