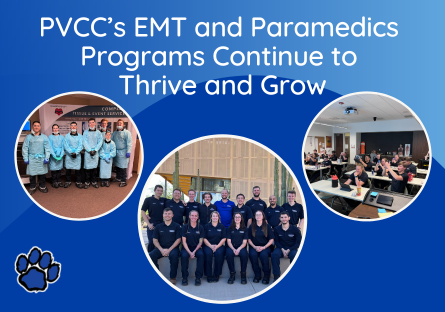 PVCC's Emergency Medical Technicians (EMT) and Paramedics program have had an eventful and successful year, officially moving both programs into a much larger space in the Q building on the Union Hills campus. This move consolidated all of the training equipment while expanding the programmatic supplies. We have also increased the use of technology in both programs and increased our community outreach efforts. 
It's time to celebrate! Our EMT program successfully completed all cohorts this semester, and all 14 students graduating in this month's Paramedic cohort have already found employment with companies around the Valley, including AMR (American Medical Response), ABC Ambulance, Gila River EMS, Maricopa Ambulance, Buckeye Valley Fire Department, Honor Health, Banner Health, and Arizona DPS.
"Throughout my clinical and field internship, I found no shortage of opportunities for employment post-graduation," said Audrey Hajek, PVCC student. "The rapport and expectations specific to Paradise Valley's Paramedic Program and the graduates from a highly recognized institution were strongly recruited by multiple agencies. The Health Sciences Career Panel hosted by PVCC also provided a platform for students to acquire individual career path advice specific to their career goals and was a valuable opportunity yielding an invitation to shadow in the Flight Medic field - my ultimate goal. The program not only gave me the credentials necessary to work as a Medic but facilitated my dreams and long-term goals. I will be forever grateful."
"We are continuing to expand both programs and our community partnerships and work closely with industry leaders to ensure that all PVCC students are ready to provide high quality emergency medical care as soon as they graduate," said Kevin Taussig, EMT and Paramedics program director. "Many of these industry leaders are so impressed with our students that they actively recruit them during their program."
For more information about either program, visit PVCC's website or by calling 602-787-6782.