Monday, November 20, 2023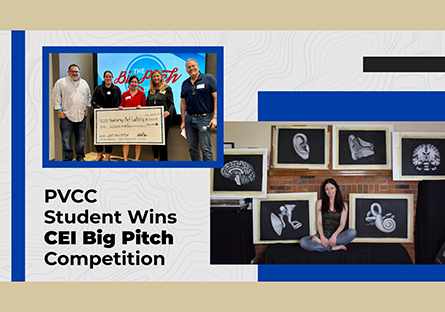 Paradise Valley Community College student and artist Beth Eckel won grand prize at this year's Center for Entrepreneurial Innovation's Big Pitch Competition. Following her first-place win at PVCC's Innovation Challenge last spring, Eckel beat out 17 college-wide and 10 district-wide applicants to come away with the top prize of $5,000 for her unique anatomy art renderings
Anatomy Art Gallery curates and creates detailed and accurate anatomy fine art including original oil paintings, drawings, and restored vintage medical art prints. Its mission: to bridge the gap between medical science and artistic expression.
"I am so excited and still can't believe it," said Eckel, who began drawing at a very young age, describing how art brought her calm, peace, and healing during a difficult childhood. "I'm a born artist and would be painting whether or not I was paid."
Eckel's clients primarily include doctors' offices, chiropractors, physical therapists, and others in the medical field. However, as her artwork gains popularity, everyday people are commissioning pieces as gifts for people in the medical field, as well as patients wanting to commemorate a medical experience as part of their healing journey. 
"What Beth created exceeded all my expectations," said client Terri Edwards, Au.D. "My art [piece] is so beautiful. It brings education, beauty and a richness to my practice that I could never have purchased in prints." 
"Artwork has a remarkable way of connecting us," said Eckel, explaining that her art helps to "transform a healthcare environment into a space that is not only visually appealing but also emotionally engaging and conducive to healing."
"I was very impressed with Beth's project, in which she combined creativity with amazingly beautiful art. She was uniquely positioned to bring this idea into reality," said Dr. Kishore Dash, PVCC's Entrepreneurship Education Center director. Dash first met Eckel during PVCC's Innovation Challenge Competition last spring when she got involved as part of PVCC's exclusive Fresh Start Women's Small Business Start-up Certification program.
"Following your artistic passion can be risky, but having people like Dr. Dash believe in me means everything," said Eckel, who is now working on her entrepreneurial studies certification and plans to use her prize money to continue investing in advertising for her company. "Business programs like EEC and the small business start-up certification enable one to hone in on exactly what you are doing and to break down the steps of successful business strategies, especially for people like me with no business experience. I now feel prepared to be a business owner. I'm extremely grateful for the guidance and encouragement from Dr. Dash and Dr. (Dina) Preston-Ortiz. Without them I wouldn't have had the confidence or knowledge to give a winning pitch!"
The Center for Entrepreneurial Innovation was created by GateWay Community College and the Maricopa County Community College District, providing a place for innovators to learn, grow, and refine their ideas. 
To learn more about PVCC, EEC, and the Fresh Start program, visit www.paradisevalley.edu or contact kishore.dash@paradisevalley.edu and dina.preston-ortiz@paradisevalley.edu.