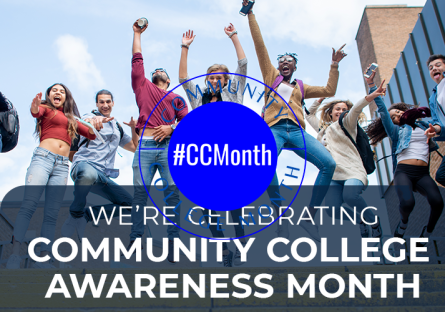 National Community College Month - #ccmonth – gives proud pumas even more reason to celebrate our incredible community. Each April, the Association of Community College Trustees (ACCT) leads this grassroots effort to raise awareness of the economic, academic, and equity advantages of attending community colleges. Paradise Valley Community College is joining our Maricopa County Community College District (MCCCD) sister schools across the valley, as well as  community colleges nationwide, in this effort, helping to break the stigmas wrongly associated with public two-year colleges.
"Community colleges are engines of diversity, equity, and inclusion," said ACCT President and CEO Jee Hang Lee. "They give opportunities to all students, and they support all students through their education, whether they attend to attain an associate degree or certificate, intend to transfer on for a bachelor's or high degree, or they take one or a few courses to learn a new skill or expand their horizons.
Did you know?
 
CC's are the primary educators of life-saving nursing and other healthcare professionals, among many others.
CC's serve as an onramp to bachelor's, master's, and higher-level degrees for many students, particularly for demographically and socioeconomically diverse students.
CC's guarantee fair admissions for all students and offer support for adult students who have to work to support their families.
CC's are the most in-demand institutions during and following times of economic recession and support local communities regularly during times of crisis.
CC's prepare students to enter the workforce, upskill their careers, or partner with business leaders to bring cutting-edge programs to life.
"Community colleges are a vital part of communities, something we never take for granted," said PVCC President Tiffany E. Hunter. "Each day, we offer an engaging campus environment with many avenues to explore educational leadership, civic engagement, service, wellness, and cultural activities."
PVCC's community events bring in thousands of locals monthly. Highlights include the Festival of Tales, a celebration of children's literacy, music and arts, the Thieves Market and 32nd St. Market, both offering an array of goods and foods.
PVCC is also a designated voting hub and hosts regularly scheduled food banks. 
Engage in the arts! The Center for the Performing Arts offers an incredible array of performances - theatre, dance, film, music, and more! Each experience is unique and unforgettable. Check out the CPA events schedule here.
PVCC's Early College programs, Achieving a College Education (ACE), Dual Enrollment, and Hoop of Learning (HOP), introduce high school students to college-level courses.
New Things Happening at PVCC
While we celebrate #ccmonth, it's important to make note of the advances PVCC is making in education and workforce development.
PVCC launched its first four-year bachelor's program in Education, commencing Fall semester 2023. Flexible and affordable with personalized support, PVCC's BA is designed to accommodate students' hectic lives with flexible teacher training hours offered through Paradise Valley Unified School District (PVSD), enabling students to easily complete their field experience requirements.
PVCC launched the Maricopa Business Institute, partnering with local businesses, to bring students and business employers together to create a stronger workforce. As a leader in regional workforce development, PVCC continually develops pipelines to meet the demands of today's emerging industries with fast track certificates and rapid reskilling programs.
Share the love!
Help us celebrate by posting your favorite community college story on social media using the hashtag #ccmonth. For more information, visit PVCC's website.