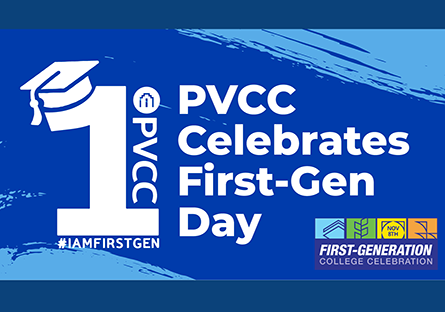 First-gen students, staff, and faculty at Paradise Valley Community College are gathering Wednesday, Nov. 8 at a celebratory dinner in observance of National First-generation Day. The holiday was created in honor of the Higher Education Act of 1965, which increased access to higher education for students whose parents/guardians did not complete a U.S. bachelor's degree. The First Generation Celebration Dinner will be held from 6 p.m. to 8 p.m. in KSC1000A on the Union Hills Campus for PVCC's first-gen students and their parents. 
"Our first-generation college students are a big part of our amazing community, and they deserve to be celebrated," said Dr. Norma Chandler, manager of Multicultural Programs.
It's not by chance that they find their way to PVCC, Chandler explained. PVCC places significant emphasis on community outreach, heightening awareness of programs such as ACE and Hoop of Learning that are available to first-gen students while attending high school. Many first-gen students are not aware that they may qualify for free financial aid and scholarships so they may opt out of college believing it is not affordable. PVCC's First-gen Program is helping to change that by facilitating connections to academic, financial, and personal resources. 
Sheena Mata, supervisor of the Intercultural Center and PVCC's peer leaders, said the center provides a safe space for first-gen students to ask questions, find support, and connect with college resources. In addition, the Intercultural Center hosts a first-gen luncheon and student success workshops during the first weeks of college to help students navigate the challenges ahead. 
"By the time our celebratory dinner takes place, students have completed college midterms or eight-week courses and are well on their way to the end of the semester," said Dr. Chandler. "This First-gen Celebration Dinner is both a celebration and reminder that we are here to help first-gen students finish successfully."
The inaugural first-generation college celebration was launched in 2017 by the Council for Opportunity in Education (COE) and the Center for First-generation Student Success. PVCC's 2021-2022 academic enrollment included 43 percent first-generation students, and dozens of high school students currently participating in PVCC's Early College program.
PVCC Alumnus Erick Arvizu Santos said, "As a first-gen student here in America, my time at PVCC paved my path forward. I started taking classes in high school through the ACE program, which I believe is one of the reasons I continued my educational journey. The mentors and friendships I made impacted me greatly and gave me the confidence to continue my education at ASU."
Arvizu Santos, who met his wife at PVCC, went on to earn his bachelor's in mechanical engineering from Arizona State University and his master's in engineering management: Quality from Lawrence Technological University. He now works as director of Quality Engineering at Axon.
Alumnus Dr. Bernardo Chavira first heard about PVCC from his high school counselor. He graduated early from Paradise Valley High School and enrolled at PVCC.
"Initially I was undecided about a major, but then I realized I wanted to do something in the science or medical field, thanks to the careers exploration course. I chose biology as my major and took as many classes as I could before transferring my credits to ASU where I earned my bachelor's in science," said Chavira. 
"PVCC allowed me to make a smooth transition from high school to university. The campus and classes were smaller, less intimidating, like high school and affordable. I qualified for financial aid and received several scholarships by participating in the Honors program." Chavira went on to earn his medical degree from Midwestern University and is currently a third-year family medicine resident at the University of Arizona in Tucson.