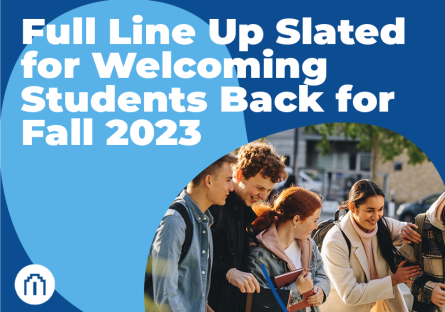 As faculty and staff prepare to welcome both new and existing students for fall 2023, Paradise Valley Community College has shifted into high gear in preparation for Puma Orientation and Welcome Week (POWW).
In person orientation began August 5, with three more sessions lined up August 12, 17, and 19. PVCC's Student Life and Leadership put together a jam-packed calendar of events and activities, which is sure to make everyone feel right at home.
Puma Success Workshops are scheduled throughout the week of August 14, designed to help acclimate students to Maricopa's technologies, services, and resources. Sign-ups are encouraged but walk-ins are also welcome. Workshops will be held 11 a.m. to 12 p.m. in the KSC Building's Intercultural Center, located on the Union Hills campus. See the full line up and dates here.
Welcome Back Waffles is scheduled for August 14 at 9 a.m.  in the KSC Building as well. The breakfast is a chance for fellow students to meet one another as well as PVCC faculty, advisors, and staff.
Club Rush is scheduled for August 28 through August 31. The three-day event is a great way to get involved, become part of something bigger, and develop leadership skills.
PVCC's monthly food distributions will resume in September on Cordova Plaza on the Union Hills campus. The event, which is student volunteer driven and feeds more than 250 families each month, takes place the first Thursday of each month from 10 a.m. to 12:30 p.m.
"We're pushing forward full throttle," said Student Life and Leadership Manager Mike Ho. "It feels like we've finally put the pandemic behind us and the campus is coming back to life. We're excited about the activities we've got in the hopper for the coming semester." 
Additionally, PVCC has many activities and events scheduled throughout the semester celebrating social and cultural aspects. Events including celebrations of National Hispanic Heritage Month, National Disability Employment Awareness Month and National American Indian Heritage Month are already on the books and will be held in the Intercultural Center on campus. Learn more here.Full Line Up Slated for Welcoming Students Back for Fall 2023