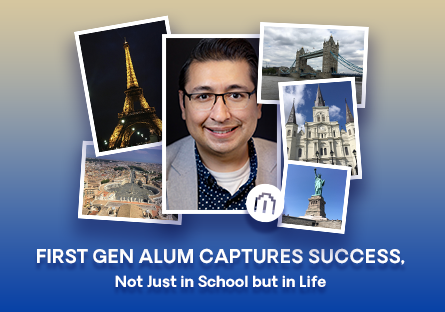 Straight out of high school, Emmanuel "Manny" Dorado wasn't sure what the future had in store for him. As the first member of his family to pursue college, financial constraints seemed to place higher education out of reach. However, when Manny began researching his options and discovered Paradise Valley Community College, his pathway began to come into focus.
Upon taking PVCC's placement exams, Manny scored above average and college quickly became his reality. Qualifying for a tuition waiver scholarship, Manny also signed up for PVCC's Honors Program, which led to additional scholarship opportunities.
"It was really serendipitous how it all unfolded," Manny said, adding that the guidance he received and the mentors that supported him paved the way to his success. "The longer I was there, the more people I met and the more I got involved with different things. It seemed everything just fell into place."
While earning his Associate's in Business at PVCC, Manny became a fixture around campus, involving himself in many organizations including Emerging Leaders, Student Ambassadors, the Arizona Town Hall, Phi Theta Kappa Honors Society, Phi Beta Lambda Business Club, as well as various internship opportunities. He tutored in the Learning Success Center, then as a student ambassador gave orientation tours around campus, before completing internships in PVCC's audio and equipment room, Northern Arizona Univesity's transfer office on campus, and a small tech start-up based out of Scottsdale.
"The community college network under Maricopa does a fantastic job getting students involved in different academic programs," Manny said. "I feel as if my experience at PVCC was much more intimate and hands-on than if I had attended a university right away. Here you get much more time with the professors in a smaller classroom setting, and aren't just one amongst hundreds in a lecture hall."
Nearly half of PVCC students are first generation college students (43%) and are a significant part of the Puma community. By placing emphasis on community outreach and heightening awareness of programs and scholarship available to them, PVCC is able to attract incredible students like Manny and help make higher education more accessible to all who seek it.
"As a first generation college student, Manny is the epitome of a successful college student," said Dr. Norma Chandler, who worked in Career Services at the time and today works as PVCC's Student CARE and Conduct manager. Dr. Chandler helped Manny narrow down his options to pursue a degree and land an internship in his field of interest.
"Manny was not afraid to ask questions, was open to recommendations and meeting new people. And while many first gen's may feel like they don't belong, Manny exuded confidence and found his home away from home at college," she said.
It wasn't just academics that paved Manny's way; the clubs and programs he engaged in led to solid friendships and networking opportunities.
"Manny made friends with students, faculty, and staff and has maintained many of these relationships since leaving PVCC in 2006," Dr. Chandler reflected. In fact, Manny met one of his best friends to this day in PVCC's Phi Beta Lambda's Business Club, and they each stood as groomsmen at each other's weddings. "Manny always impressed me with the way he maintained his ability to focus on his goal of college completion, despite the challenges he faced. Equally impressive is that Manny helped other PVCC students obtain IT internships or jobs while he was employed with GoDaddy. He is a true professional."
Many of the retreats offered through PVCC's clubs enabled Manny to visit and explore other parts of the country, including San Francisco and Tennessee, fueling his desire to travel and see more.
'I've met so many incredible people through my involvement in various clubs, and also learned so much about leadership, public speaking, networking and the importance of making a good impression when meeting new people – all things that help you succeed both professionally and personally."
In 2006, Manny completed his Associates in Business at PVCC and transferred to Arizona State University's WP Carey School of Business, continuing his education through scholarship opportunities and diving into extracurricular programs there as well. He completed his Bachelor of Science in Finance in 2008 and has continued to work steadily in his field, primarily in data analytics.
Today, he and his wife live in Albuquerque, New Mexico and have a newborn daughter. Together they have traveled all over the world exploring many different cities including: London, Madrid, Rome, Paris, New York, New Orleans, Cancún, Maui, and much more.