Wednesday, February 8, 2023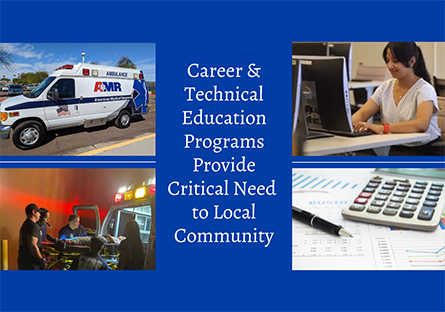 While February is technically CTE Awareness Month®, Paradise Valley Community College supports our Career and Technical Education programs every day of the year, honoring the value they bring to our institution and our students, as well as the role these skill sets play in our local community.
According to the Association for Career and Technical Education, CTE provides students with not only career and academic skills, but soft skills that are needed for the modern workplace, such as: critical thinking; communication; team work; citizenship, integrity, and ethical leadership; research tools; creativity; and innovation.
Two of PVCC's programs stand at the forefront of this undertaking, with strong partnerships throughout the community – Paramedicine and Accounting.
Paramedicine
PVCC's well-respected Emergency Medical Technology and Paramedic Education degrees are essential to the surrounding Phoenix community. Currently, there is a serious shortage of and increasing demand for EMTs and Paramedics in both prehospital and clinical settings. The need for these highly trained and skilled professionals is only growing; from private Emergency Medical Services' providers, fire departments, hospitals and other healthcare facilities, to a wide variety of public and commercial entities, the need is palpable.
PVCC is doing our part to fill these in demand jobs, offering both certificates and associate's degrees in EMT and PME, while also working closely with our partner universities to collaborate on dual enrollment opportunities.
"Our esteemed relationships with community partners allow us to create the best learning experience and environment for our students," said Kevin Taussig, Program Director for Paramedicine and EMT. These entities, including American Medical Response, Arizona Fire and Medical Authority, and the Rural Metro Fire Department, have enabled PVCC students to work in unique areas and situations and with the latest cutting edge equipment, including a recently donated ambulance from AMR for our programs.
"These hands-on experiences give students the opportunity to work collaboratively with other PVCC departments and students here on campus in several immersive patient management scenarios, continuing to learn from one another while expanding their educational knowledge and awareness. We have a superior reputation for being one of the best programs in the nation with respect to student success, retention, and job placement, offering specialty training in collaboration with these same community partners, to best train our students to become the most successful in the industry upon graduation."
PVCC's EMT and PME programs offer both day, night and weekend classes to accommodate a variety of student needs. For more information on the program and how to apply visit PVCC's website or contact 602-787-6782.
Accounting
PVCC offers both a Certificate of Completion (CCL) in Accounting and an applied science degree. Either is a terrific launching pad for careers not only in accounting but bookkeeping (Certified Bookkeeper) and tax preparation (Enrolled Agent) as well. A CB designation opens up additional employment opportunities and increased earning potential, all of which gives you an edge in one of the most competitive job markets, while earning your EA designation in just 12-18 months, students can begin working immediately as a tax preparer, one of the most in demand positions in the country.
PVCC accounting students have been utilizing these skills for years, volunteering with AARP members on free tax preparations, and more recently, with the Internal Revenue Services' Volunteer Income Tax Assistance (VITA) program. Both programs are available at PVCC's Union Hills campus and are a great way for students to earn solid experience while helping out in the community.
"Having a VITA site on campus allows our students to get hands-on experience as they pursue their education," said Lynn F. Clark, CPA, Accounting Program Director. "By hosting VITA at PVCC, we give opportunities to students that would not otherwise be possible."
Additionally, PVCC has partnered with Jackson Hewitt and Fresh Start Women's Foundation to expand the pool of highly qualified tax preparers. This strategic alliance between education, business, and nonprofit partners gives students the opportunity to acquire in-demand job skills and offers guaranteed interviews at Jackson Hewitt for PVCC students and Fresh Start women who successfully complete PVCC's EA program.
To learn more about career opportunities with an accounting degree, contact lynn.clark@paradisevalley.edu.