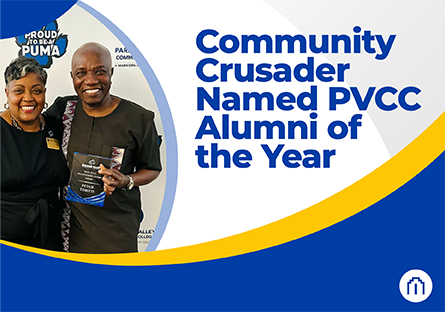 Peter Tometi, a Nigerian American pastor, entrepreneur, and community leader who earned his Associate of Applied Science (AAS) degree at Paradise Valley Community College, was recently named the college's 2022-2023 Distinguished Alumni of the Year. The recognition is presented to an alum demonstrating exceptional achievement in their professional career, community and volunteer service, commitment to lifelong learning and positive social change, as well as service to or engagement within the PVCC community.
"For me to be chosen amongst the other candidates was humbling," said Tometi. "But it's not just about me. I've come across people whose lives have moved this community forward. If it's just me, nothing would have been accomplished. They say, a tree doesn't make a forest; it's mostly about the others that were a part of it…. It's about how our lives intersected to bring about accomplishments within the community. I am grateful for those people."
Tometi earned his AAS in Nutrition and Dietetic Technology, fueled by the poverty in the United States and wanting to teach others about healthy eating and avoiding the effects of disease that comes from a poor diet. In May this year, the Honors student graduated from PVCC's transfer partner school Arizona State University's Watts College of Public Service and Community Solutions with a bachelor's degree in Nonprofit Leadership and Management.
As co-founder of the Phoenix Impact Center, Tometi has successfully turned his passion into a one-stop community center providing a plethora of desperately needed social services to the underserved population in metro Phoenix. Additionally, he co-founded the Gospel Missions International Church at the same location.
"Peter is a testament to the fact that one individual can make a difference," said Lori Anonsen, former Nutrition and Dietetic Technology Program director, who retired in 2022. "Peter excelled at every opportunity that came his way, greatly impacting all those around him, as well as the educational and community institutions with which he was involved. His dedication to the Phoenix community is reflected in his extensive volunteer and intern work, with more than 450 hours in the areas of medical nutrition therapy, food service management, and community nutrition. It was an honor and truly a joy to guide him through the program and observe his dream come true, along with many other accomplishments along the way."
Read more about Peter's story and community service here.