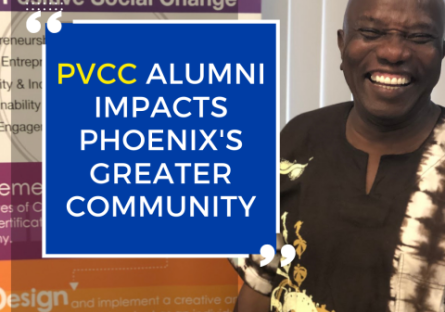 Imagine a place where the streets are made of gold; where food is in abundance and everyone feels safe and secure. This is the image Paradise Valley Community College alumni Peter Tometi had of America from his country of nativity, Nigeria.
Tometi first came to the states in the 1980s to attend school, and quickly discovered America was not the surreal country depicted on Nigerian television.
"I was shocked," he said as he recalled seeing a man lying by a trash dumpster outside his window in Tempe, Arizona. "I thought the man was dead. I was about to call 911 when the man suddenly woke up and started rummaging through a trash dumpster."
This was a defining moment in Tometi's life, one that has fueled him to dedicate himself to helping the underserved and marginalized people; to be their voice. "It was shameful to me. How could there be poverty in a country where there is so much wealth?" he said.
Tometi's journey began at PVCC in 2019, where he earned his associate's degree in Nutrition and Dietetics. His goal was to teach others how and what to eat in order to avoid the deleterious  effects of diseases that accompany filling the body with junk food. He is continuing his studies at Arizona State University, attaining his bachelor's degree in Nonprofit Leadership Management and master's degree in Community Resource Management.
His academic focus ties directly into what he and two fellow Nigerian-Americans (Yato Adeyemi & Emmanuel Uba) are building here in the Phoenix community. In 2016, the trio opened a weekly ministry outreach, with dreams of creating a one-stop community center that will provide a plethora of desperately-needed social services to the underserved population in metro Phoenix.
The dream has metamorphosed into what today is known as the Phoenix Impact Center (PIC), a child and family-friendly facility that also serves as the home to the Gospel Missions International (GMI) Church. The trio have fed and clothed the homeless, united runaway teens back to their loved ones by paying the airline or bus ticket, paid the rent to get others off the street, provided spiritual counseling and support for prostitutes, and more.
"We did these things because of our sincere love of people, particularly the underserved, marginalized and downtrodden who needed a voice of hope during their storms of life," Tometi said. "In fact, the homeless were the guests of honor at my birthday bash a few years back."
Free services at PIC currently include:
Food Pantry (Saturday.11am -1pm.) in-kind donations from Foothills Food Bank and  Desert Missions Food Bank.
Marriage Workshop (Monthly Last Sunday. Free lunch served. On hold due to Covid.)
Basketball court
Health and Wellness check (On hold due to Covid.)
Other phases to be opened up as funds permit are:
Computer Skills Training
Personal Financial Management
Gym, Exercise, and Dance classes
After-School Homework Tutoring/Mentoring, ESL classes
Handyman Skills Training - drywall repair, painting, plumbing, masonry, etc.
Small Business Development Workshop and Resource Center
Community Garden
"Developing these programs takes time and money, particularly since PIC is funded solely on donations," said Tometi, adding that the PIC is an all-volunteer-run organization and all donations go directly towards fulfilling the mission of the organization to work together with the community stakeholders today, to create a brighter tomorrow!
"This is what I live for," Tometi said. "The satisfaction I get from helping others, I couldn't put a price tag on. We are all God's children. Nobody takes a dime when they leave this earth. It's the people that you touch, the people you leave your love and legacy to, is all that matters."
In 2021, PVCC's Club Zeitgeist (Club Z) created the Peter Tometi Award, which can be added to student's Z Achievement Awards, the focus being 'student projects that bring people together.' The recognition followed Tometi's 2020 work as Club Z president in which he and Psychology Faculty Caron Sada developed Calm Talk, an achievement project that aims at bridging the gap in conflicts.
To donate to the Phoenix Impact Center, visit the website or call 602-774-2354. The Phoenix Impact Center is a 501c3 corporation and all donations are tax-deductible.