Thursday, November 10, 2022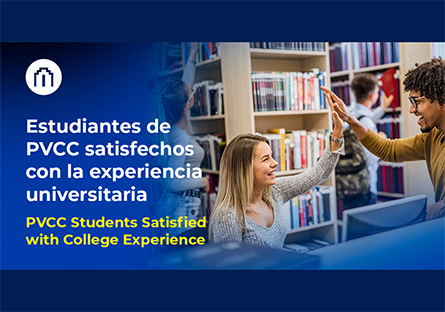 ¡Ya están los resultados!
Los estudiantes del Colegio Comunitario de Paradise Valley participaron en una encuesta de satisfacción en la edición especial de este año de Ruffalo Noel Levitz (RNL), cabe mencionar que hemos logrado nuestro cometido, nuestros estudiantes están felices y satisfechos con su experiencia en PVCC.
Resultados Aquí:
● El 87% respondieron estar satisfechos o mayormente satisfechos con PVCC
● El 73 % calificó a PVCC mejor o ligeramente mejor de lo esperado
● El 82 % dijo que "sí" se inscribiría en PVCC si tuvieran que volver a hacerlo.
"Si bien es cierto, siempre hay espacio para mejorar y oportunidades para hacer las cosas mejor, estamos muy orgullosos por estos resultados", dijo la Dra. Tiffany E. Hunter, Presidenta de PVCC. "Estamos enfocados y comprometidos a ayudar a nuestros estudiantes a desarrollar todo su potencial y a fortalecer sus habilidades. Hacemos todo esto con pleno conocimiento de enriquecer su aprendizaje a través de experiencias que los hagan ser mejores, desarrollando fuertes líderes, y preparando a los estudiantes para que tengan un impacto positivo en la comunidad. Los datos aportados en la encuesta de satisfacción de los alumnos ayudarán a guiar nuestro trabajo, nuestra planificación continua del campus y nuestros esfuerzos de retención de estudiantes".
RNL es uno de los principales proveedores de inscripción en Educación Superior, éxito estudiantil y recaudación de fondos. Más de 1900 colegios, universidades y organizaciones sin fines de lucro confían en la firma RNL para análisis avanzados, compromiso personalizado y conocimientos de los líderes en la industria para lograr sus objetivos.
La encuesta, es administrada cada tres años a los estudiantes de Maricopa, y se distribuyó en el mes de Mayo y Junio del 2022 en todos los colegios comunitarios del condado de Maricopa. A diferencia del año pasado donde la encuesta se entregó en papel, la encuesta de este año se realizó electrónicamente por primera vez.
Los estudiantes califican una amplia gama de servicios tanto en importancia como en satisfacción, incluidos el enfoque centrado del estudiante, eficacia de la instrucción, seguridad, efectividad de la asesoría académica, efectividad de la ayuda financiera y de inscripción, efectividad del registro y clima del campus.
"La encuesta es una parte integral de escuchar a los estudiantes", dijo Sherri Ondrus Lewis, vicepresidenta asociada. "PVCC valora las voces de sus estudiantes y usamos estos resultados para saber dónde enfocar nuestros esfuerzos, para saber dónde estamos haciendo bien, y donde podemos mejorar y dales una mejor experiencia a nuestros estudiantes.
Los puntos positivos más importantes para PVCC incluyeron:
 ● El campus se siente seguro y protegido
Los estudiantes sienten que PVCC es un ambiente seguro, de apoyo y acogedor para venir y aprender.
● Disfrutan del campus
Los estudiantes sienten que el campus está bonito y que es una experiencia agradable ser un
estudiante en este campus.
● Encuentran al personal y la facultad serviciales y comprometidos
Los profesores son justos e imparciales, por lo general están disponibles después de clase y durante el horario de oficina, y hacen que los estudiantes se sientan bienvenidos en el campus.
● Recursos disponibles
Los estudiantes sienten que el campus tiene servicios adecuados como tutoría, laboratorios de computación, biblioteca y estacionamiento.
En general, los estudiantes calificaron a PVCC más favorablemente en todas las categorías este año en comparación con años anteriores.
Los estudiantes de PVCC también estaban significativamente más satisfechos con PVCC en la mayoría de los temas cuando en comparación con el promedio nacional de estudiantes de Educaion Superior que participó en la encuesta. Las áreas en las que PVCC puede mejorar sus servicios son: departamento de finanzas, personal con pleno conocimientos de los programas y transferencia académica, así como tener empatía hacia estudiantes que presentan situaciones únicas.  
Para obtener más información sobre los resultados de la encuesta de RNL, comunícate con la Dra. Ondrus al sherri.ondrus@paradisevalley.edu o la oficina de IE en https://www.paradisevalley.edu/institutional-effectiveness
_______________________________________________________
The results are in! Students at Paradise Valley Community College took part in this year's Ruffalo Noel Levitz (RNL) Student Satisfaction Survey and the majority say they are happy with their experience.
87% were satisfied or mostly satisfied with PVCC
73% rated PVCC better or slightly better than expected
82% said "yes" they would enroll at PVCC if they had to do it over again
"While there is always room for improvements and opportunities to make things better, we are incredibly encouraged by these results," said Dr. Tiffany E. Hunter, PVCC president. "We remain focused and committed to helping our students develop to their full potential and to strengthen their skills. We are intentional about doing this by enriching their learning experiences through relevance and rigor, developing strong leaders, and preparing students to have a positive impact on the community. The data provided in the student satisfaction survey will help guide our work, our continued campus planning and our student retention efforts, both of which are always top of mind."
RNL is one of the leading providers of higher education enrollment, student success, and fundraising solutions. More than 1,900 colleges, universities, and nonprofit organizations rely on RNL for advanced analytics, personalized engagement, and industry-leading insights to achieve their missions.
The survey, administered every three years to Maricopa students, was distributed in May and June 2022 at all Maricopa County Community Colleges. Unlike in year's past where the survey was handed out in paper form, this year's survey was conducted electronically for the first time.   Students rate a wide range of services on both importance and satisfaction, including student-centeredness, instructional effectiveness, safety & security, academic advising effectiveness, admissions and financial aid effectiveness, registration effectiveness, and campus climate.
"The survey is an integral part of listening to students," said Sherri Ondrus Lewis, associate vice president. "PVCC values its students' voices and we use these results to know where to focus our efforts, what we do well and what we can improve on, all to better serve our students and improve their experience. "
Top positive takeaways for PVCC include:
Campus feels safe and secure
Students feel PVCC is a safe, supportive, and welcoming environment to come to and learn.
Enjoy the campus
Students feel the campus is well maintained and an enjoyable experience to be a student on this campus.
Find the staff and faculty helpful and invested
Faculty are fair and unbiased, usually available after class and during office hours, and make students feel welcome on campus.
Resources are readily available
Students feel the campus has adequate services like tutoring, computer labs, library resources, and parking.
Overall, students rated PVCC more favorably in all categories this year compared to past years. PVCC students also were significantly more satisfied with PVCC on most topics when compared to the national average participating in the survey. Areas in which PVCC can do better include financial obstacles for students, staff knowledge and understanding of program and transfer requirements, as well as understanding and empathy for  individual students' unique situations.
For more information on the RNL results, please contact Dr. Ondrus at sherri.ondrus@paradisevalley.edu or the IE office at https://www.paradisevalley.edu/institutional-effectiveness.