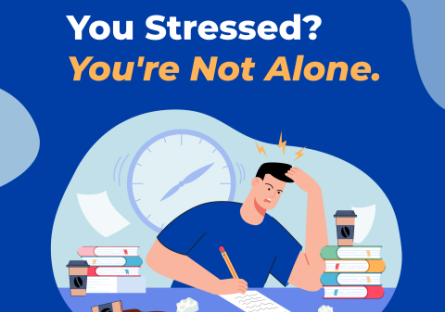 Finals Week is fast approaching, which can inevitably lead to all different signs of stress. If you are beginning to feel anxious and stressed, you're not alone and there are definitely techniques to help you out. 
An estimated 40 to 60 percent of students have significant test anxiety that interferes with their performing up to their capability. 
Another study found that finals and midterms are the top source of stress for about a third of American students.
And a third study, conducted by Dr. Earl Turner, a professor of psychology from Pepperdine University, showed 87 percent of Generation Z college students are seriously stressed out by school.
Knowing there is no one way to avoid those amped up levels of cortisol during finals, there are various ways to help reduce and manage your stress levels, first and foremost being, taking care of your well-being. 
Try meditation. At the very least, take five minutes of quiet time to practice deep breathing techniques, visualization methods, and removing negative thoughts.
Don't procrastinate. Stay on top of your subjects and if you need help, ask for it.
Get exercise and fresh air regularly, and make sure you are getting plenty of sleep.
For those suffering heightened math anxiety, this is both common and overcomable. According to Dr. Paul Nolting's Winning at Math, math anxiety is a learned behavior usually rooted in past experiences. To reduce these symptoms, talk to your instructor and take advantage of office hours. When it comes to math anxiety, practice makes perfect. This is vital to remembering concepts in math. By developing new patterns and positive math experiences, your confidence will improve as well. 
Need Support? 
In the next few weeks, don't hesitate to visit the Learning Success Center either in person or virtually to work with a tutor, no appointment necessary. The LSC is located in building E 180. Additionally, students can make an appointment for the Writing Center, Success Coaching, and study rooms, by stopping by the LSC or calling 602-787-7180. To reach tutors online, log in here.
PVCC also offers free math tutoring in the Math Building. Stop by building Q 152 to meet with tutors, or schedule a virtual session online.