Monday, November 21, 2022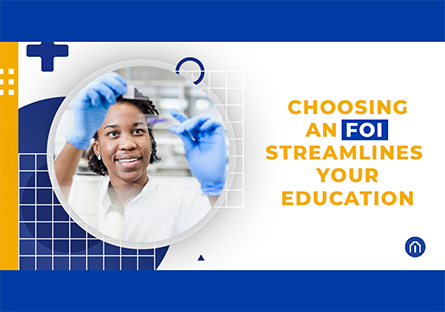 Paradise Valley Community College and its network of Maricopa County Community College sister schools offer a unique and simple way to determine your academic strengths and interests through various Fields of Interest (FOI). PVCC offers nine FOIs that explore various degrees and certificates that share similar areas of study.
Our most popular FOIs are Business, Health Sciences/Health Technology Systems and the Visual and Performing Arts program.
Business
Designed to give you the knowledge and experience you need to be a business, financial, economic, social and entrepreneurial leader at every level of your career. With a wide array of programs, you can discover the right path for you. Programs include business management and administration, finance, hospitality and tourism, culinary arts, and marketing, which lead to careers in accounting, management, sales, marketing, human resources, owning and operating a small business, and customer service.
Health Sciences and HTS
Jobs in the Health Sciences arena are gaining in popularity as our society as a whole continues to move toward health and wellness. Think nursing, physical therapy, emergency medical technician, and fitness and exercise – all of these programs prepare you to work in a hospital or health care setting. Additionally, Healthcare Technology Systems (HTS) is one of the fastest growing and in-demand career paths, pairing healthcare and information technology to create a vast amount of jobs that rely on technology to support efficiency, financial stability, and patient satisfaction. Hospitals, insurance companies, billing services, medical practices, and various public agencies; they all depend on Health IT experts (HIT) experts to get the job done.
Visual and Performing Arts
Students and alumni rave about PVCC's rewarding arts program. We offer a wide array of programs including studio art, fashion design, interior design, dance performance, choreography, acting, theatre production, vocal and instrumental performance, and film and audio production. Gaining hands-on foundational skills in their chosen mode of expression, students can achieve successful employment as artists, musicians, designers, actors, dancers, choreographers, and audio producers.
The six remaining FOIs include Applied Technology, Behavioral Science and Human Services, Computer and Information Technology, Culture and Society, Education, and STEM. And no matter which path you choose, all associates in applied science degrees (AAS) and certifications can act as a starting point for continuing education at one of Arizona's four-year university transfer partners. 
Puma Power Up
Be advised, all new students are required to attend a mandatory Puma Power Up session where they will learn more about FOIs to help them decide which direction they want to go. All students are also encouraged to work closely with a PVCC advisor to determine the right path for them.
Still not sure? Speak to one of PVCC's Career Counselors to discuss your goals and options. PVCC also offers a career assessment for a nominal fee. Enrolling in the two-credit transferable course Career Exploration is also available.
Ready to get started? Register for Spring 2023 classes here.
El Colegio Comunitario de Paradise Valley y sus colegios afiliados del Condado de Maricopa (Escuelas Hermanas) ofrecen un método sencillo para determinar tus fortalezas académicas a través de sus conocidos campos – áreas- de Interés profesional (FOI). PVCC ofrece 9 áreas de interés profesional donde podrás explorar diferentes carreras profesionales y certificados técnicos que comparten semejantes áreas de estudio.
Programa de Artes Visuales y Escénicas
Negocios
Este programa está diseñado para brindarte el conocimiento y la experiencia que necesitas para ser un líder en el ámbito empresarial, financiero, económico y social. Una amplia gama de programas para que descubras el camino correcto al éxito. Estos programas incluyen Gestión y Administración de Empresas, Finanzas, Hotelería y Turismo, Artes Culinarias, Marketing; programas que te llevan a las carreras de Contabilidad, Administración, Ventas, Marketing, Recursos Humanos, Pequeños Negocios y Servicio al Cliente.
Ciencias de la Salud y HTS 
Los trabajos en el campo de las ciencias de la salud están ganando popularidad en nuestra sociedad y vemos que la tendencia se dirige hacia el bienestar de la salud. Si estás pensando en Enfermería, Terapia Física, Técnico de Emergencia Médicas, Entrenador Físico, estás en el lugar perfecto. Estos programas te preparan para trabajar en Hospitales o Centro de Atención Médica.
El Sistema de Tecnología de la Salud (HTS) es una de las trayectorias profesionales de más rápido crecimiento y demanda, ya que hoy en día una enorme cantidad de trabajos dependen de la tecnología para apoyar la eficiencia, la estabilidad financiera y la satisfacción de los pacientes, hospitales, compañías de seguros, servicios de facturación, prácticas médicas y agencias públicas. ¡Todos ellos dependen de los expertos en el área de la tecnología, TU PUEDES SER UNO DE ELLOS!
Artes Visuales y Escénicas
Los estudiantes y exalumnos son un claro ejemplo de la excelencia de los programas de Arte de PVCC. La excelencia habla por sí sola. Entre los programas que ofrecemos se incluyen: Arte, Diseño de Moda, Diseño de Interiores, Danza, Coreografía, Actuación, Producción Teatral, Interpretación Vocal e Instrumentos, Cine y Producción de Audio. Puedes obtener un trabajo como artista, musico, diseñador, actor-actriz, bailarín, coreógrafo y productores de audio.
Aun tenemos mucho que hablar de nuestros Campos de Intereses Profesionales (FOI), Los 6 FOI restantes incluyen Tecnología Aplicada, Ciencias del Comportamiento Humano, Tecnología Computacional e Informantica, Cultura y Sociedad y sin restar importancia nuestro campo de Ciencia, Tecnología, Ingeniería y Matemáticas mejor conocido como STEM. No importar cuál es tu dirección vocacional, todos nuestros programas académicos en Ciencias y sus certificaciones pueden ser un punto de inicio para continuar tu educación en cualquiera de las 4 Universidades del Estado con las que contamos convenios de transferencia de créditos.
PUMA POWER UP… Arranca motores para conectarte con tu Asesor Académico.
El proceso de Puma Power UP conocido como PPU, es donde tendrás contacto directo con tu asesor académico para ser recibir recomendaciones acerca tus clases a programar y los servicios que ofrece el Colegio de PVCC. Este proceso es mandatorio para todos nuestros nuevos estudiantes. Trabajaras muy cerca con tu Asesor Académico para llevarte al éxito en tu jornada Academica con PVCC.
¿Sigues indeciso? ¿Inseguro? Comunícate con nuestros Consejeros Vocacionales para platicar acerca de tus metas profesionales y las opciones que tenemos para ti.
PVCC también ofrece evaluaciones de carrera (exámenes vocacionales) a un costo accesible. El Curso de Evaluación de Carreras está disponible, puedes obtener 2 créditos – transferibles -.
¿Listo para comenzar tu trayectoria académica con PVCC?
Regístrate para las clases en Enero 2023 aquí.