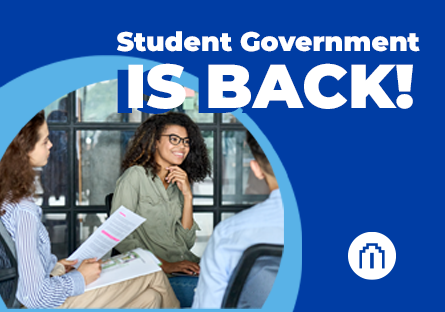 For the first time since 2020, Paradise Valley Community College has brought back student leadership, elected this past April to serve fall 2023 through spring 2024.
Student Government, also known as STUGO, will prioritize issues and concerns to be brought before PVCC administrators, as well as serve as an open forum to share other developments in PVCC's various clubs and organizations. Meetings will be held the first and third Tuesday of each month at 2 p.m. in the Club Meeting Room in the KSC building on PVCC's Union Hills campus.
"We are really excited to have this essential component of our student's college experience back," said Student Life and Leadership Manager Mike Ho. "Student government is an integral part of our student body being heard and seen. It allows their voices to be heard."
The six elected officers include Sandra Al Hames, chair; Alaina Rosas, vice chair; Alexia Sirrieh, public relations; Lia Thompson, registrar; Priyam Tated, Treasurer; and Viviana Jaquez Archuleta, ambassador.
"Everyone's wish and mine for STUGO is to be somewhere safe for students to share their concerns and needs, in order to succeed," said Al Hames, adding, "I am beyond excited to work with students in order to get them the best academic and social experience possible. It is important for students to feel heard and understood in order to thrive, and my goal is to make sure of that, which is why I chose to be a part of STUGO. Our only focus is creating a comfortable learning environment for PVCC students and I look forward to bringing that energy forward into the work the STUGO team will be doing!"
Vice Chair Rosas added, "I am so excited to help PVCC students plan events, programs, and policies they would like to see around campus alongside keeping students safe and supported with my fellow student government officers."
To learn more about PVCC's student government or how you can get involved in both Student Life and clubs, visit PVCC's website.