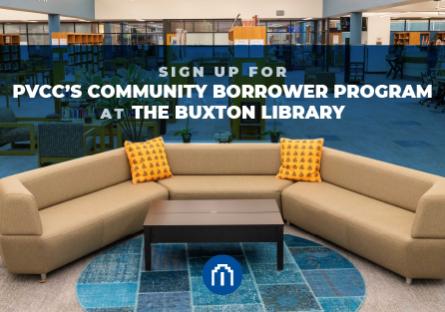 Paradise Valley Community College's Buxton Library has always been a hub of knowledge and entertainment, not only for students, staff, and faculty, but our surrounding community. We're proud to serve our diverse community and provide a wide range of resources to inspire and empower all of our members.
Local residents are able to use PVCC's library, as well as Maricopa County Community College District's other libraries, once they've established an account with the district.
Maricopa County community residents 18 and older are eligible for borrowing privileges at all MCCCD libraries.
To establish an account, follow this link then scroll to choose "non-credit student." After you receive your non-credit student ID (and your MEID), your Community Borrower account will be activated in 24-48 hours.
You'll need an Arizona state-issued photo ID with a Maricopa County address (or AZ state photo ID with separate proof of Maricopa County residency).
Community Borrower accounts are valid 12 months from the issue date and may be renewed upon request.
Once the above steps are completed, community members may use our computers and check out a diverse collection of materials.
Books: Borrow up to five books at a time, catering to a wide range of interests. While our book collection is tailored to complement our college curriculum, we don't stop there. We also make sure to purchase all New York Times bestsellers and maintain an eclectic popular reading collection. This means you can always find the latest and greatest in literature, as well as a variety of genres to choose from.
DVDs: Enjoy the latest movies and documentaries with up to three DVD rentals.
Graphic Novels and Manga: Dive into captivating visual stories with our graphic novel and manga collection.
Board Games and Puzzles: Spice up your family game night with our selection of board games and challenging puzzles.
Culture Passes: Immerse yourself in cultural experiences with our culture passes, opening doors to museums and attractions in the area.
 A Welcoming Space for Families
We're proud to offer a diverse and extensive children's book collection, ensuring that young minds have access to a wide array of stories and knowledge, nurturing a love for reading and learning from an early age. Children are more than welcome to visit the library with a guardian.
Exciting New Addition
Coming soon to our collection is a seed library. This new resource will empower our community members to explore the joys of gardening, sustainability, and green living. It's a fantastic opportunity to grow your own plants and cultivate your green thumb.
Expert Research Assistance
Our dedicated team of librarians is always on hand to provide excellent research assistance. Whether you're a student working on an assignment or a community member exploring a personal interest, our librarians are here to guide you through the vast world of information.
Access to PVCC's Research Database
If you're a student at PVCC, the library offers seamless access to our campus research databases. This invaluable resource provides a wealth of academic articles, journals, and research materials to support your studies and scholarly pursuits.
For more information about the Buxton Library, visit https://paradisevalley.libguides.com/about.