Tuesday, October 31, 2023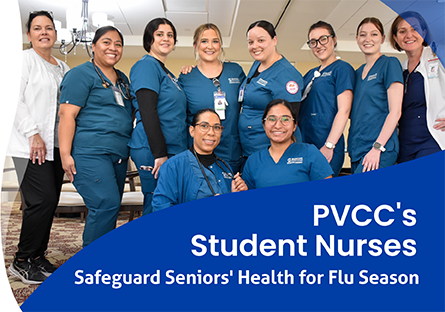 Early last month, members of Paradise Valley Community College's Student Nurses Association (SNA) provided flu vaccinations at the Legacy House of Avondale, a residential senior living community. The group of nursing students, along with PVCC Professors Tina Barney, MNSN-Ed, RN, CCRN, CHS, and Julie Robertson,  MSN-ED, Ms-MHW, RN-C, held a four-hour flu shot clinic, administering vaccines to more than 70 residents.
The CDC reports that 50-70 percent of season flu-related hospitalizations occur in people 65 years and older; the flu can also increase the risk of heart attack by up to five times and the risk of stroke by up to three times for people in this age group.
"I am so proud of our group for volunteering with the senior community at The Legacy House of Avondale. Administering flu vaccines to their residents and promoting health in our community is an important role and responsibility of being a nurse," said SNA President Elect Mikayla Hinton, who organized the event along with PVCC's Block 3 nursing students. "PVCC nursing students exceeded expectations and we were so grateful for the opportunity and plan to work with the Legacy House again next year."
Dr. Jessica Bruhn, nursing division chair at PVCC expressed gratitude to Hinton for putting the event together and inspiring her peers to partake as well. "Thanks to all of the students who volunteered and the nursing faculty who supported these students in their efforts to contribute and be part of something bigger than themselves," she said. "Your efforts remind us of what the heart of nursing looks like."
"The Legacy House of Avondale can't thank PVCC enough for taking the time out of their busy nursing school schedule to help us manage a successful Flu Vaccine Day," said Legacy House Wellness Director Gregorio Munoz. "The students' professionalism and compassion are what make nurses 'heroes who don't wear capes – they wear stethoscopes.'"