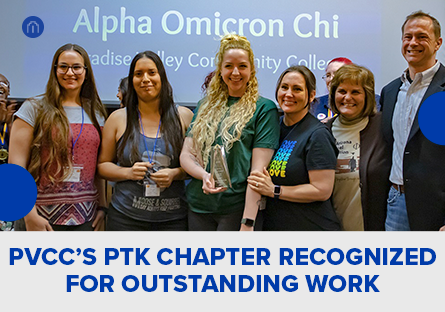 Paradise Valley Community College's Phi Theta Kappa chapter, Alpha Omicron Chi, has had a busy spring, earning accolades at various events including the Arizona Regional PTK Conference.
The group of talented and dedicated students were presented with a Chapter Award for Excellence for their college project submission, one of the top three college projects recognized in the Arizona Region. Alpha Omicron Chi's college project, aligned with PVCC's mission statement and aid in administration's goals, centered on helping eliminate the stigma surrounding community colleges. Members utilized a PTK founded program, Community College Smart (CCSmart), to provide information to local high school students to empower them to choose the best educational path forward. Chapter members created an information pamphlet for CCSmart and attended PVCC'S Biannual High School Senior Night where they talked with students and their families on why community college has been their Smart Choice.
Two members also participated in a panel discussion at the event, answering questions regarding the application process, scholarships, extra curricular activities, financial aid, and PVCC's role in their personal journey.
"Chapters that score this well are often recognized at the International level and we look forward to seeing Alpha Omicron Chi on the stage at Catalyst in Ohio at the end of this month," said Amy MacPherson, PTK regional president.
Additionally, Alpha Omicron Chi was named a 2022 REACH Chapter at last month's REACH Rewards program, which recognizes chapters that excel in membership development. The program was created as a way to support Phi Theta Kappa chapters and membership benefits including scholarships and increased opportunities for engagement with peers and faculty on campus, which lead to higher rates of completion.
Alpha Omicron Chi received four Phi Theta Kappa graduation stoles, which were recently awarded to officers in appreciation for all their service to the chapter. They include: Brian Kelley, Vice President of Leadership, Christine Collado, Vice President of Fundraising, Skylar Simko, Vice President of Membership, and Violet Anderson, President.
For more information on PVCC's PTK Chapter, visit our website.