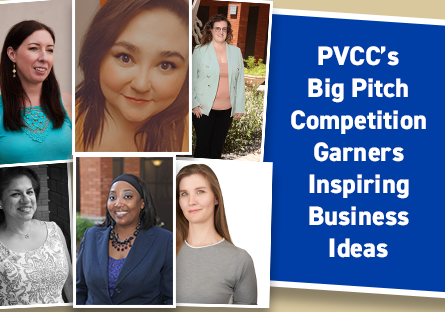 Paradise Valley Community College's Entrepreneurship Education Center (EEC) hosted yet another successful Innovation Challenge Pitch competition last month – attracting unique, inspiring, and dynamic women-run businesses developed by students. The Innovation Challenge gives students the opportunity to share their ideas, develop their skills to pitch professionally, and be able to validate ideas and kick-start their own business or non-profit organization.
The six selected finalists are all part of PVCC's Small Business Start-Up (CCL) program and the school's partnership with Fresh Start Women's Foundation. Attending an intensive, two-day workshop, they learned distinct concepts on how to think like an entrepreneur to solve problems and deliver value to customers and society, as well as how to develop their ideas using Business Model Canvas before pitching their idea to a panel of judges.
"The caliber of students speaks not only to the students but the program's talent," said Dr. Dina Preston-Ortiz, program director for the Fresh Start Small Business Start-Up, CCL. "Our job is to embolden the students and support their strengths, elevating them to compete at the next level. It's like nurturing a seed and witnessing its growth."
"All of the pitches this year were fantastic," said Dr. Kishore Dash, who oversees the EEC, as well as the Big Pitch competition with the help of many like Dr. Preston-Ortiz, and Dr. Sean Petty, chair of PVCC's Business/IT Division. Alongside colleagues, they run the two-day workshop exploring ways to help their students succeed not only in the competition but in their businesses. Mentors also included PVCC Librarian John Chavez and retired faculty from Business/IT Division, Bahman Maneshni
First place winner Beth Eckel is one of a few fine artists specializing in creating original anatomy art. Her business – Doctors Art Gallery – sells both custom paintings and drawings, as well as restored vintage medical art prints. Eckel was getting more commissions from healthcare professionals than she had time to create so she began restoring vintage medical art and art prints to keep up with the demand.
"It was such an incredible experience and I'm grateful to everyone involved," said Eckel, who took home the top price of $1,500 and will graduate from PVCC's Small Business Start-Up program this month. "I received invaluable insight and resources during this workshop that helped me create a solid business pitch that I can continue to use and build on in the future."
Runner-up Karisa Pulaski, who earned a $1,000 prize money, is a tattoo artist specializing in 3D areola tattoos and scar camouflage. Her business – Karo Paramedical Ink – caters to cancer survivors and those with scars from traumatic injury. Pulaski also does permanent makeup.
"I want to help them with feeling connected to their bodies again," she said, adding that she plans to continue her business classes and earn her entrepreneurial studies certification.
Kathleen Foster took home third place, receiving a $500 award for her commercial janitorial cleaning business A1 Property Services by KJ LLC. The company removes rubbish from exterior builds and cleans office suites. Foster said the training she received was resourceful in fine-tuning her pitch. To learn more, contact a1propertykj@gmail.com.
The six finalists also included:
Tamale Delights are the creation of Andie Andrade, who said she grew up making tamales, learning the special techniques for a great tasting tamale, and aims to bring her vision to life this upcoming holiday season. She is continuing to study small business and earn her entrepreneurship certification.
Shytaun Bess Johnson created Kyngdom Chreationz, customized motivational t-shirts that transform the minds of everyday people from average to 'royal-tee.' Johnson first came up with the idea in 2019 and has spent the past four years bringing the idea to fruition. The "Godly Apparel" is for organizations that focus on self-esteem building, such as churches, sports teams, foster homes, etc. Its mission: to Save the World One Soul at a Time. Johnson plans to continue studying business and begin funding her business.
Rachel Miller's Dosha Healing Center is based on the idea of helping others learn how to care for their health and prevent disease using Ayurveda, a natural and holistic approach to physical and mental health based on the ancient Indian medical system. The center would host educational workshops at a fraction of the cost of going directly to an Ayurvedic practitioner. Miller plans to continue her education in entrepreneurial studies, as well as earning her yoga teacher training certification, all of which will add value to her business and open doors to more opportunity.
Who Made It Possible
PVCC Vice President for Academic Affairs Dr. Amardeep Kahlon awarded the prizes to the winners, while Tatum Bailey, director of PVCC Fitness Center and Integrated Health Science Center Coordinator emceed the event. Dr. Petty judged the competition along with Kelsea Aaberg and Alexa Ruona, senior program coordinators for Student Outreach and Engagement at J. Orin Edson Entrepreneurship + Innovation Institute, Arizona State University, and Lou Farina, Business Advisor/ Maricopa SBDC, Technology Commercialization.
"I want to thank everyone who made this year's event possible," said Dr. Dash. "We couldn't have done this without them, as well as our generous sponsors Maricopa Foundation, Wells Fargo and the PVCC Business/IT Division."