Tuesday, November 7, 2023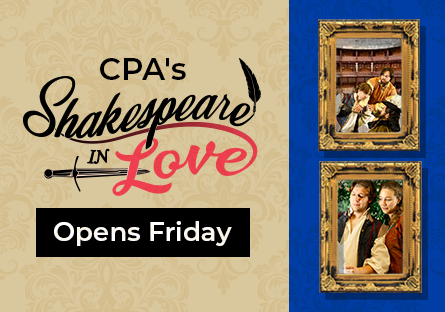 Join us this month at Paradise Valley Community College's Center for the Performing Arts for the exciting and innovative production of Shakespeare in Love, adapted from the 1999 Academy Award winning romantic comedy and reimagined as a delightful play. The performance is a perfect blend of comedy, drama, romance, music, dance, and fight scenes.
PVCC Theater Director Andrea Robertson picked this year's play specifically to include stage combat fight scenes, choreographed by PVCC's very own advanced stage combat theater students. Expect a lot of sword fighting in addition to live musicians, dancing, and singing.
"We're really excited. This year's play has a little bit of everything and it's a lot of fun," said Robertson.
The play brings to life the world of the iconic playwright, William Shakespeare, in a charming and witty narrative that explores his creative struggles, love life, and the inspiration behind his most famous works. PVCC's adaptation, based on the screenplay by Marc Norman and Tom Stoppard, and adapted for the stage by Lee Hall, adds an extra layer of interest by infusing the production with fight scenes, music, dance, and singing, turning it into an unforgettable experience.
PVCC is the first college in the nation to offer a certificate of certification (CCL) in Stage Combat and Robertson is one of only two instructors in Arizona certified as a Society of American Fight Directors teacher.
Shakespeare in Love opens November 10 at 7 p.m. Additional showtimes include November 11, 7 p.m.; November 12, 2 p.m. matinee; and the following weekend November 17, 7 p.m., November 18, 7 p.m., and November 19, 2 p.m. matinee. Tickets for the show are $15 adults; $13 senior/staff/military; $8 students; $8 child.