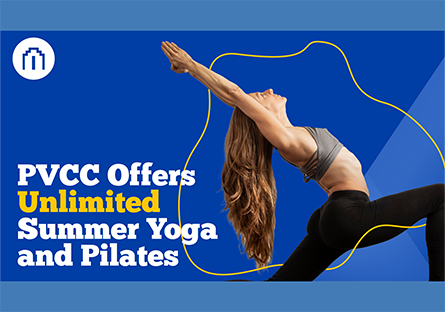 Whether you're an advanced practitioner or new to yoga and pilates, Paradise Valley Community College has a summer offer you won't want to miss. Beginning May 30 through August 9, students and community members alike can enroll in any one section of noncredit yoga/pilates for $100 and gain access to unlimited yoga and pilates classes all summer long. Access the summer schedule here.
"Both yoga and pilates provide physical as well as mental benefits to create a mind/body workout that targets strengthening your muscles and improving flexibility and balance," said Tatum Bailey, PVCC Fitness Center director. "We are excited to give the community access to these amazing classes for just a fraction of what local studios charge. Our certified instructors are knowledgeable, helpful, and encouraging."
According to MindBody, 70 percent of those who practice yoga or pilates say that it relieves stress for them. Webmd states that 94 percent of those who do yoga say they do it to improve their overall wellness.
So what's the difference between the two? While they both bring together the power of body and mind with similar postures, shapes, and movements, they are also distinctly different, so we recommend checking out both classes.
Yoga is a holistic discipline originating in India, and combines breath, movement, and meditation to connect the mind, body and spirit. Yoga is a philosophy blending asana (physical movement) with pranayama (breathing techniques). It incorporates many styles from gentle to more challenging postures that challenge you both physically and mentally, while using your breath to ease the mind. Yoga promotes better sleep, eases back pain, and relieves stress and tension.
Pilates was introduced in the 20th century and focuses primarily on core strength, posture, and balance. In pilates, the focus is on small movements targeting key areas of the body. Most notable benefits include deeper core strength, muscle tone, and flexibility. 
Bottom line, with unlimited access to both, PVCC's classes are a great chance for you to simply experience some self-care and relax. For more information, contact the fitness center at 602-787-7270