Monday, November 13, 2023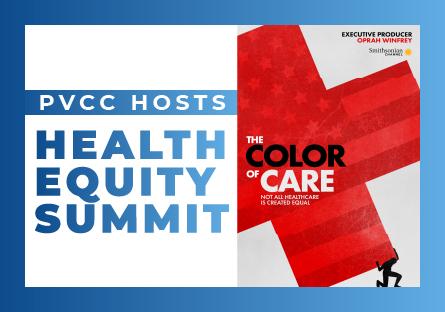 Be sure to check out Paradise Valley Community College's first Health Equity Summit, aimed at opening an important dialogue amongst students, staff, and the community at large about achieving health equity for communities of color.
The summit will be held Saturday, December 9, 11 a.m. to 2 p.m. on PVCC's Union Hills campus, 18401 N. 32nd St., KSC 1000A, in Phoenix. Register here to attend. It will include a free screening of The Color of Care, a documentary produced by Oprah Winfrey and Harpo Productions in partnership with The Smithsonian, "chronicling how people of color suffer from systemically substandard healthcare in the United States and how COVID-19 exposed the tragic consequences of inequity." The screening will be followed by a panel discussion with health equity experts including members of PVCC's Nursing faculty, as well as opportunities to participate in clinical/health research.
The panel discussion will provide a unique opportunity to learn, connect and collaborate with like-minded individuals. It's a great opportunity to translate learning and thoughtful dialogue into actionable steps aligned with an individual's stage of engagement (information gathering, advocacy, education/training to advance the healthcare field, and/or participation in clinical research). 
Partnering with PVCC for this vital event is the National Coalition of 100 Black Women Phoenix Metropolitan Chapter (NCBW), a global clinical trials consultant, as well as Mindset Medical. Catering is provided through Helpings Café by UMOM with generous donations from other PVCC partners such as Legacy Healthcare, Vitalyst Health and ASU Health.