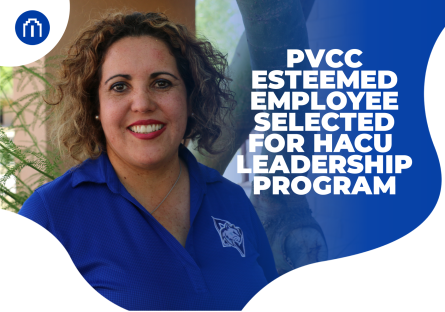 Congratulations to Paradise Valley Community College Student Services Manager Ivette Quintero on her selection for the Hispanic Association of Colleges and University (HACU) Enlace Mid-level Leadership Program. The inaugural cohort debuts this fall and includes 56 participants from across the nation, including five Maricopa County Community College District (MCCCD) representatives. The six-month leadership development program is for mid-level college and university professionals to help increase the number, variety, and quality of Latino/a talent in leadership positions at Hispanic-serving institutions and in higher education overall.
"Ivette's ethic of care, commitment to student success, commitment to mentoring students and staff, and passion for serving the community well led our leadership team to nominate her for this experience. We are grateful for her leadership in our ongoing efforts to develop our practices to serve our Hispanic/Latino students well at PVCC," said Interim President Jana Schwartz, PVCC. "I am thrilled to have Ivette participating in this inaugural cohort and am thankful to HACU for providing opportunities for us to invest in our leaders."
Quintero has been a part of PVCC's Puma family for 23 years and currently serves as manager of Student Recruitment and Testing Services, where she is responsible for planning and executing the department's strategy, goals, and objectives to promote PVCC's programs and services. She excels at collaborating with internal and external stakeholders, building relationships and creating smoother transitions for new-to-college students. 
"It is an honor to be nominated and elected to be part of this year's Enlace Leadership Program, which will allow me to become a stronger leader and continue to advocate and support Hispanic students and families at PVCC," Quintero said. 
Program participants will acquire knowledge in programming covering academic and student affairs management, regional institutional accreditation, diversity, equity, and inclusion, and higher education advocacy issues. For more information on the program, visit https://www.hacu.net/hacu/Enlace_Mid-Level_Leadership_Program.asp
The Hispanic Association of Colleges and Universities, founded in 1986, represents more than 500 colleges and universities in the United States, Latin America, Spain and school districts throughout the U.S. HACU is the only national association representing existing and emerging Hispanic-Serving Institutions (HSIs). The Association's headquarters are in San Antonio, Texas, with regional offices in Washington, D.C and Sacramento, California.