Thursday, February 16, 2023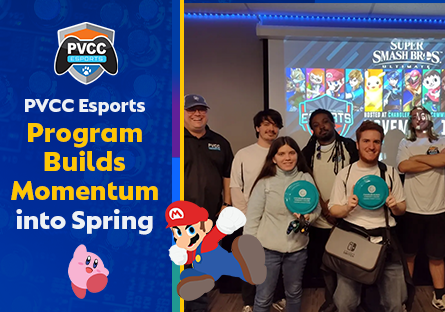 On the heels of a fantastic fall semester of growth and success, Paradise Valley Community College's Esports program and gaming club is eager to keep the ball rolling this spring. Highlights from first semester included highly attended games nights, field trips to four-year universities, participation in campus-based events, and a strong showing in our competitive sports league is the cherry on top.
"After less than a year and a half of full participation on our four Esports teams, PVCC stands as one of the stronger programs and overall teams in Maricopa College Esports League (MCEL)," said Ryan Stone, Co-Advisor, PVCC Esports.
This fall, PVCC's MCEL teams made their mark in local tournaments:
Four members of the Smash Team finished in the top 10 individuals at November's tournament. The team also achieved a third place finish in doubles and a crew battle to finish first in crew.
The League of Legends team handed Chandler-Gilbert its first game loss in the MCEL in two years, but ultimately finished second behind CG.
The Call of Duty team took home the preseason championship.
Rocket League took home 7th in the MCEL this preseason.
Additionally, PVCC's Game Nights for the more laid-back casual players and beginners, are continuing to grow through word of mouth. Held on PVCC's Union Hills main campus, PVCC hosted three successful events last fall, and hopes to incorporate even more fun-filled evenings for spring semester. Monthly programming for those interested include open practices, game nights, and Gone Gaming trips to other universities to tour their campuses and Esport facilities. Club members also visited a high school to help raise awareness of the incredible program and future career opportunities. The program anticipates taking many more field trips this spring and in the future.
"There is so much happening in and around our program," Stone continued. "We've secured grants and partnerships, have procured an internship position with the Desert Foothills YMCA, and strengthened the dialogue surrounding awareness of Diversity, Equity, and Inclusion issues through a partnership with Easter Seals. I couldn't be more proud of our group of faculty, students, and gamers."
PVCC student Kellen Royer landed a job at the YMCA as a paid internship. He helps to run the game room, help YMCA members learn and play the games, provide coaching on some games for the Y's competitive Esports team, and learn the Y's mission and values while assisting other staff with their duties and functions.
Another avenue for our Esports and Video Game Production students stems out of our fruitful partnership with Microsoft/Xbox to help staff their Xbox call center in Tempe, Arizona through the Education at Work program. Students receive paid training, a foot-in-the-door of the gaming industry, $14 per hour, and up to $5,700 in tuition assistance each year. Two PVCC students were initially hired, and Microsoft/Xbox is looking to hire more.
"We will be inviting their team to campus for an in-person recruiting/hiring event in the spring, so keep an eye out for announcements," said Stone.
"Our students are stoked. They can't help but want to share what they know with other gamers and the community. Our gaming community isn't just about playing video games; these kids build confidence through learning teamwork, leadership skills, communication skills, building community, and fostering relationships. These skills sets will carry forward in tandem with their academic coursework and make them more enticing to potential employers.
Video Game Production AAS
Many of the students participating in the Esports Club are part of PVCC's associate's degree program Video Game Production, aimed at working in the video game industry in a variety of capacities. Areas of specialization include:
Coding and scripting
Game writing
Game art
Audio and sound design
PVCC's gaming community is comprised of individuals passionate for video games. Completion of an Associate of Applied Science (AAS) degree in VGP can lead to immediate employment in the industry, while allowing you to continue your education at a university and deepen your knowledge in specific areas.
To learn more about PVCC's VGP program or Esports league and club, visit the website or contact Ryan Stone at ryan.stone@paradisevalley.edu, Joshua Moss at joshua.moss@paradisevalley.edu, James Loop at james.loop@paradisevalley.edu, or Dr. Lisa Tolentino at lisa.tolentino@paradisevalley.edu.