Thursday, February 23, 2023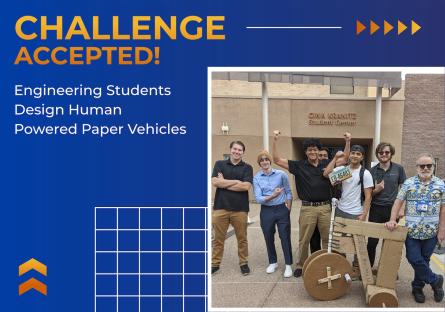 Building a paper airplane is one thing – but a paper vehicle that works? Paradise Valley Community College engineering students might have something to say about that.
Each semester, PVCC Engineering Professor Jiim Sizemore invites students in his ECE 102 class to design a full-size Human Powered Paper Vehicle (HPPV), a feat not easily attained, but willingly taken.
"It's a difficult project with many aspects," explained Dr. Sizemore. "Not only is it nearly impossible to support a person on an object constructed of 90 percent paper products, but the moving parts are especially difficult."
While the project is more about having fun and encouraging students to step outside their comfort zone, students also learn valuable engineering principles about friction, movements, and loads, developing designs to mitigate these factors.
"The level of excitement students show is what makes it fun for me," said Sizemore. "Students stay after class, they come before class, and work on it on their own time. They become a cohesive team working on these projects, friendships form. It's very poignant, as well as impressive.
"HPPV projects engage students in learning about their discipline of choice - in this case engineering," he continued.
While the HPPV may not perform as desired the students learn a lot. At the end of the project, Sizemore and his students hold a debriefing session where they raise questions on how to improve their vehicle. Students brainstorm openly and without threat about potential improvements.
To learn more about PVCC's Engineering program, visit the website or contact jim.sizemore@paradisevalley.edu.