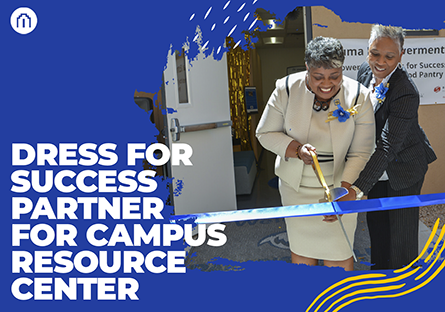 Paradise Valley Community College's Food Pantry has a new and bigger space, featuring a satellite location for Dress for Success Phoenix, a non-profit organization providing professional attire and support and development tools to help women thrive in work and in life. The partnership is the first of its kind for PVCC, Dress for Success Phoenix, and the Maricopa County Community College District.
The Puma Empowerment Center Powered by Dress for Success Phoenix and the Puma Food Pantry will offer an array of resources and also serve men and women throughout the community, offering professional attire, as well as coaching and workshops on job procurement, resume writing, interviewing, and more. Earlier this month, the college hosted a soft launch of the new space, which will be fully accessible in August 2023 when students return to campus for the Fall semester.
"In the time and day we live, and the cost of education, we need to find better ways to support students to help them keep their focus and energy on their education. Day to day challenges like food, preparing for interviews and looking the part for an interview – these are all things that we can help with to support our students and take away a bit of stress from their lives," said John McCrudden, career services advisor. McCrudden took the initiative to contact Dress for Success Phoenix about extending its services to the campus.
"We are excited about this partnership and look forward to working with Maricopa, as well as expanding the services we provide down the road," said Mary Crawford, director of Women's Services, Dress for Success Phoenix. Crawford said the PVCC location is a prototype the organization hopes to roll out throughout MCCCD's other colleges in the Valley, eventually offering opportunities to apply for assistance programs as well such as SNAP and AHCCS.
PVCC's Spring 2023 graduating class will be fitted for a week's worth of professional attire  in the coming weeks. To register for a fitting, click here; for more information on available resources, click here.
About Puma Food Pantry
PVCC's Puma Pantry was created in 2017 and helps students overcome food insecurity in order to focus on their educational goals. Students have access to non-perishable food items and basic needs such as toiletries, hygiene products and cleaning supplies. In Spring 2022, PVCC created the Little Free Pantry around campus, where students could grab a quick snack more discreetly.
About Dress for Success Phoenix
Dress for Success Phoenix has assisted over 20,000 women since opening its doors in 2009. The mission empowers women to achieve economic independence by providing a network of support, professional attire and development tools to help women thrive in work and in life. Any woman referred by a community partner is eligible for free-of-charge programs and services. Dress for Success Phoenix is an independent 501c3 non-profit organization and an affiliate of Dress for Success Worldwide. Funds are raised locally and have a direct impact in our local communities.