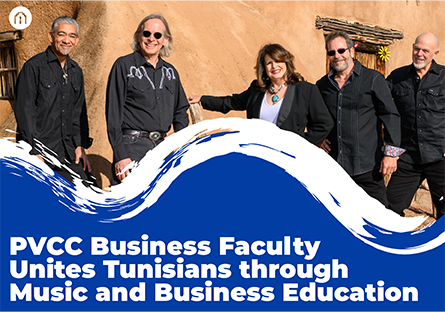 Dr. Dina Preston-Ortiz, a Paradise Valley Community College business faculty and lead singer of the Dina Preston Band, took to the African country of Tunisia to share her love for music and entrepreneurship. Combining her passion for music and enthusiasm for inspiring entrepreneurial thinking and action, Preston-Ortiz and her husband, Don Ortiz, performed public concerts with their band and provided workshops on business and entrepreneurship in several Tunisian cities. The tour was organized with support from the U.S. Department of State's Arts Envoy program, American Voices, the U.S. Embassy in Tunisia in collaboration with the Tunisian Ministry of Cultural Affairs and the Ministry Youth and Sports.
"I love teaching business skills through music," said Preston-Ortiz, who brought the band's Southwestern sound and collaborated with Tunisian musicians. "We are committed to entertaining audiences worldwide but also using our talents to educate on the power of entrepreneurship."
For the tour in May, Preston-Ortiz and her husband wrote the song 'When the World Calls Your Name' off their upcoming album release. Through the U.S. Embassy Tunisia, they teamed up with Tunisia88's nationwide network of music clubs, blending together traditional Tunisian vocals and rhythms with the song's American pop sound. "It's a beautiful example of using the power of music to blend cultures and connect with one another."
Artist Weekly recently described the song as "an innovative and worldly experience that highlights the themes of familial unity and positivity through lyrics that are sung in both English and Arabic. This remarkable project is a testament to the diversity and cultural richness of both nations and their musical legacies."
Using the song as an anchor for her music master classes, Dina and her talented group of musicians taught music master students, as well as the business community, where they shared business strategies for turning one's passion into a lucrative career.
The Dina Preston Band brings a unique approach to music and education on the global music stage, having performed on 28 world tours and performances in 44 countries. This was their sixth U.S. Embassy tour, having visited Armenia, Azerbaijan, Hungary, Fiji, and Kiribati in past years.
This month, the band's summer album will be released on Renaissance Records and ONErpm Nashville streaming platforms. They have won numerous awards globally including the United Nations Protection Force and U.S. Task Force Provide Promise Distinguished Service Certificate.
Preston-Ortiz began her music career in San Francisco, California as a street musician at the age of 18. She started teaching later in her music career to help pay back her MBA loans and ended up loving it, going on to earn her Doctorate in Business Administration. She began teaching at PVCC in 1998 as an adjunct, becoming full time in 2002, teaching all areas of business, primarily marketing, management, general business, small business development, entrepreneurship, business communications.
Today, Preston-Ortiz has discovered a distinctive way to blend her professions and give back to communities all over the world. To learn more visit https://dinaprestonband.com/dinaprestonbandtunisiatour/.