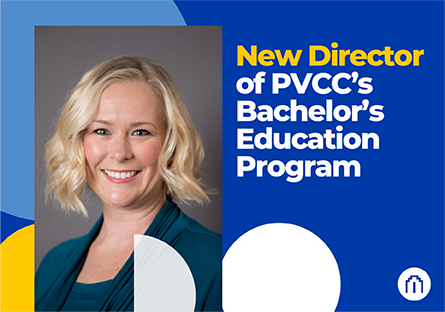 Amy Boniface has joined PVCC to lead our Education Bachelor's program. As director, Boniface will spearhead all program start-up efforts including hiring and training adjunct faculty, creating a dynamic and cohesive course sequence, establishing partnerships with local schools, districts and community partners and ensuring state accreditation efforts are met.  
Boniface began her professional experience as a classroom teacher in 2007 and has worked in higher education with undergraduate students in pursuit of their Bachelor's Degree in Education since 2016. She holds her PhD in Curriculum and Instruction from Northern Arizona University (NAU), her master's in Curriculum and Instruction with an emphasis in Reading from Grand Canyon University (GCU), and her bachelor's in Elementary Education from Arizona State University (ASU). 
"I am beyond excited to work with our students on their journey towards earning their bachelor's degree in Elementary and Special Education from PVCC, and I am deeply committed to their success," she said. "The teacher candidates from our programs will become educators who make a difference in the lives of children across the state and beyond. Our Education team will create a supportive and well-rounded program that allows our teacher candidates to participate in authentic classroom experiences, diverse community events, and engaging courses that support their learning and success as professionals in the field of education.
Boniface added that she enjoys working with preservice and new teachers in the field and teaching a variety of coursework around curriculum design and instructional strategies, and values the partnerships that have been developed with community stakeholders and K-12 districts and local schools and will work to maintain and strengthen those relationships. 
"I enjoy curriculum development and have six years experience developing computer science and coding curriculum for elementary students. I have always prioritized supporting teachers by designing curriculum that builds on their strengths and teacher knowledge. I believe that we can learn from sharing our stories of experience and work to create a space that invites everyone's voice to the conversation."
Boniface currently serves on the Narrative Research Special Interest Group (Narrative SIG) for the American Education Research Association (AERA) as Chair-Elect