Monday, February 27, 2023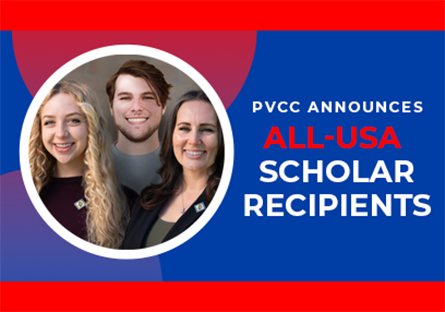 Congratulations to this year's All-USA Scholar representatives – Violet Anderson, Heather Reaume, and Wesley Winter. All three Paradise Valley Community College students were chosen for the 2022-2023 award by demonstrating academic excellence and intellectual rigor combined with leadership and service extending beyond the classroom into the community.
"We are so proud of Violet, Heather and Wes for their hard work inside of the classroom and their drive to extend their learning outside of the classroom to benefit their community. We can't wait to see what they do next," said Jenny Hall, Honors Program Director / Astronomy Director at PVCC.
Each of the winners will receive a two-year scholarship to one of PVCC's transfer schools - Arizona State University, Northern Arizona University or University of Arizona. Additionally, the three will go on to compete for the Coca-Cola Academic Team, New Century Scholars Programs, and All-State Academic Teams for the opportunity to win additional scholarship awards.
Meet Our Winners
Violet Anderson is studying Sociology and Computer Science at PVCC and plans to transfer to Arizona State University's New College of Interdisciplinary Arts and Sciences for her bachelor's degrees; ultimately earning her master's from the University of Copenhagen. Her goal is to work in societal research, studying countries' best practices and designing databases for improved research.
"When I decided to go back to school, I had no passion, drive, or direction. I have been incredibly lucky to have teachers and mentors who have reminded me of my capabilities, both academically and personally," said Anderson, who is president of PVCC's Phi Theta Kappa Chapter, a peer mentor, on PVCC's President's List, and a MCCCD Foundation Scholarship recipient. "Once I determined my new path, I held nothing back. I went from almost not graduating high school and dropping out of my first college, to maintaining a 4.0 GPA and being truly excited about my academic work. For me, being nominated for the All-Arizona Academic Team Scholarship is proof that I am on the right track, that this is what I'm meant to do."
Her favorite quote: "If the future is to remain open and free, we need people who can tolerate the unknown, who will not need the support of completely worked out systems or traditional blueprints from the past." – Margaret Mead
Heather Robinson Reaume is studying strategic leadership at PVCC and plans to transfer to Northern Arizona University to complete her bachelor's. She hopes to work alongside women to help them find their voice, influence inclusive leadership development, and promote positive change through empowerment within the community.
Heather is a returning student and said, "Choosing to go back to school meant overcoming a learning disability and all the anxiety and insecurity that came along with it. I was laid off from my job and my family supported me by encouraging me to go back to school. I had to utilize all my resources to finish strong and earn the grades I know that I am capable of. To honor all that support me, I utilized this time to invest in leadership roles in the school and in the community. I believe these experiences are the best way to learn in a meaningful way and give back for all the gifts given to me.
In her time at PVCC, Reaume has been an advocate for Women's Rising, a Maricopa County District Student Senator, and a facilitator for women in leadership for ATHENA International as well as a Legacy Behavior Health facilitator for Indigenous women in recovery and transition. She is  a member of Phi Theta Kappa Honor Society and the President's List.
"Being selected as a winner of the All-USA Scholarship made me feel an incredible sense of support and acknowledgment for all the hard work and dedication to helping others be successful. It opened my eyes to see that I can go farther than I ever thought possible."
Her favorite quote: "A woman is like a tea bag: You can't tell how strong she is until you put her in hot water." – Eleanor Roosevelt
Wesley Winter is a student at PVCC's Black Mountain campus, and plans on continuing his education at Arizona State University to obtain his bachelor's in Physics and the Ira A. Fulton Schools of Engineering for his BSE in Electrical Engineering. With plans to eventually teach at the collegiate level, Winter intends to complete his undergraduate and graduate degrees before applying for a postdoctoral fellowship at the Fermi National Accelerator Laboratory (Fermilab) to obtain hands-on, cutting-edge research experience to pass along to future students.
"For a time, I harbored shame, anger, and resentment for the amount of time my journey has consumed," Wesley said. "Now I recognize that yes, getting to this point has not been easy and it took time, but I wouldn't trade my journey for anything in the world….Someone once told me 'You're never late to anything, you're always on time. Time is never wasted, time spent always has a purpose.' This was the moment I started to see that maybe I did it right, or maybe I needed to take as long as I have. Either way I would not be here today without PVCC and everyone here, and I certainly would not be headed in the direction I am without them. The All Arizona Academic Team Scholarship is another helping hand that will guide me down my path. I will cherish it as I move forward, always knowing my roots are here and nowhere else."
Winter is a STEM Cohort Student Leader, a peer mentor, and participated in PVCC's Alumni Career Panel discussions as a facilitator. He is a member of the Phi Theta Kappa Honors Society and an Honors Achievement Award recipient.
His favorite quote: "Learn from yesterday, live for today, hope for tomorrow. The important thing is to not stop questioning." -Albert Einstein
Are You an All-USA Candidate?
Criteria for the All-USA scholarship award includes:
Strong academic background
How a student uses what they've learned to give back to the community
When competing amongst local nominees, students are ranked in teams - first, second, and third. Arizona's first team winners will go on to compete on the national level, at which additional scholarship monies will be awarded. Students are required to create an endeavor project, a community-based project, that has a significant impact on how the competition is scored.
If you think you have what it takes, it's never too early to begin thinking about your endeavor project and actively participating in your communities to determine what you want to achieve.
Students interested in this opportunity should start working on an endeavor project in their first year at PVCC. For more information, contact PVCC Honors at 602-787-7888 or honors@paradisevalley.edu.