Thursday, February 9, 2023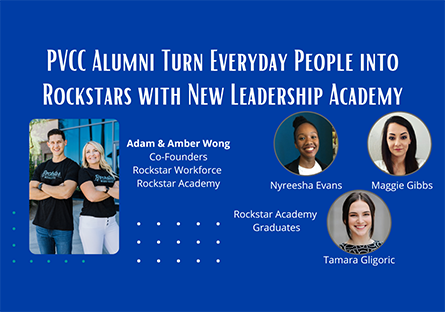 In business, as in life, there are leaders, and then there are Rockstar leaders. Truth be told, we all have the ability to be Rockstar leaders if we just dig deep enough; and that is exactly what Paradise Valley Community College alumni Adam and Amber Wong are doing with their company Rockstar Workforce and its latest program offering – Rockstar Academy.
Rockstar Workforce began in 2017, initially focusing on c-suite executives and upper management for their programs. In Summer 2022, the Wongs saw an opportunity to invest in people earlier in their careers and launched Rockstar Academy.
The academy is a cohort, designed for anyone at any stage in their career interested in taking a deeper dive into themselves. The program helps develop self awareness as an individual, team player, and leader. It is not designed for any specific industry, rather creating an open dialogue across the cohort to learn from individuals in different roles at other companies.
"What we discovered in starting Rockstar Workforce was that companies were doing a great job investing their upper management and leadership, however, we discovered that all employees could benefit from these foundational topics," said Wong, co-founder of Rockstar Workforce.
The focused, four-session curriculum (one per month) helps accelerate overall performance in not only individual's professional lives but their personal lives as well. As part of a cohort of cross-functional individuals from different organizations, participants begin to evolve their Leadership Mechanics™ through the valuable perspective outside their current role and organization. These identified categories include:
Self-awareness of strengths and gaps
Emotional Intelligence
Setting and Achieving Goals
Dynamic Communication
"I like to refer to the program as a Personal Excellence Program, in which participants become better in their overall lives," Wong said. "Students learn their strengths, blindspots and how they interact with people and perceive other people, enhancing their own self-awareness. Everyone is very candid, open and transparent."
Academy Recruits PVCC Students Through Scholarship Opportunities
The Wongs have also found a way to give back to the PVCC community, by awarding several scholarships to their academy; one to PVCC student Maggie Gibbs and two to PVCC alumni Nyreesha Evans and Tamara Gligoric. The three participants were selected by PVCC's Alumni Engagement Coordinator as ideal candidates for this leadership acceleration program.
"Rockstar Academy was fundamental to my growth both personally and professionally," said Gligoric, a PVCC Business graduate, who went on to complete her Business Administration bachelor's degree at Arizona State University. "It was eye-opening, strategic, and rewarding, and I would recommend the program to those interested in better understanding themselves and their impact on others."
Gligoric explained how the program taught her to "intentionally commit to and achieve" her goals. "I had goals in my head," she said, "but I didn't take the time to break them down into actionable steps. The program helped to hold me accountable."
In between sessions, Wong and his teammates check in on the students to see how they are doing and how they are applying the instructional sessions to their everyday lives; they discuss obstacles and triumphs, as well as next steps, bouncing ideas off of their mentors.
"Journaling has really helped me develop my communication skills even more, and I think emotional intelligence is the skill that encompasses everything I've learned in the program."
PVCC's additional two Rockstar Academy graduates also found the program extremely beneficial.
Evans, who was hesitant about being a part of the cohort as the only person of color, said, "I was nervous… but I felt welcomed immediately. Learning and connecting with people from different backgrounds and careers was great."
Evans, a PVCC graduate of the Small Business Start Up Certification Program, is an entrepreneur, while also working a full time job. She said that the program helped her as a leader to develop her team, and she was able to use what she learned in both her business and day job.
"Although we are all different, we can use our similarities and differences to become a better team and improve the lives of others," she said.
"The group was very diverse personality wise," added Maggie Gibbs, a PVCC student. "This allowed for the Rockstar leaders to assist in our growth at many different angles professionally, while at the same time, helping us on a personal level as well."
"These are not just workplace skills, these are life skills you can apply to any part of your life," said Wong.