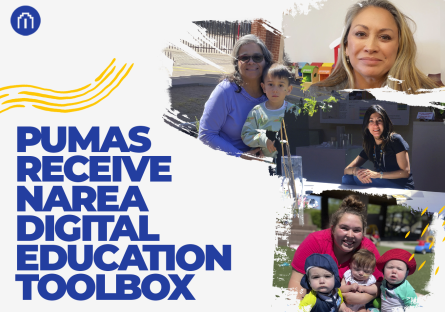 Two of Paradise Valley Community College's Early Childhood Education (ECE) graduates, as well as two current students, were nominated by PVCC faculty and subsequently awarded the Digital Education Toolbox from the North American Reggio Emilia Alliance (NAREA). The toolbox, which includes four videos and two ebooks developed by the educators in Reggio Emilia, Italy, provides a behind the scene point of view and promises to be an important resource for professional development, parent participation, and community work.
Rosa Marina Wright, who received her Certificate of Completion (CCL) in ECE from PVCC, now works in the Osborn Elementary School District. She is originally from Mexico and found her place with OESD using her degree in accounting. For the last several years, she worked as the assistant in a community education preschool classroom, and as a student at PVCC participated in the grant-funded Collaborative Educators Institute, effectively using her diplomatic skills to insert alternative experiences into the rhythm of the day. During a rainstorm, Marina supported children's explorations of watercolors in the rain, taking the young children outside to experiment with rainwater with watercolors. She is now a teacher and can use the digital education toolbox to provide professional development for colleagues and families.
Majorie Ruiz, assistant preschool teacher in the Deer Valley Unified School District, has received local as well as national notice for her work with children and families. She is a strong early childhood educator and was a part of the 2019 Five States Reggio Emilia Study Tour. After the tour, she organized a presentation of the experience for all of the district early childhood education preschool staff. She will be able to use the digital education toolbox to provide professional development to the district early childhood education staff, including educators in the developmental preschool programs and Head Start.
RaKay Gross is graduating this semester with her CCL and Associate in Applied Science (AAS) in ECE. She is the assistant director of the United Cerebral Palsy of Central Arizona Early Learning Center. She is very intuitive and moves from theory into practice seamlessly. During the months coming out of the pandemic, RaKay, then an infant teacher, found herself alone with one infant for the entire day. While a participant in PVCC's Collaborative Educators Institute, RaKay used chalk and charcoal for infant provocation for the child in her care, inspired by a slide from Reggio Emilia. RaKay can use the digital education box to provide professional development for the staff of UCP, a program serving all children.
Loretta Ajá, owner of Teach and Tots, oversees two centers serving children whose attendance is subsidized by our Arizona Department of Economic Security. DES subsidized care in Arizona is primarily for children in foster care or who have been removed from their families. Programs like Loretta's receive low market rates based on outdated formulas to care for this vulnerable population of children. The digital education toolbox will help Loretta provide professional development to the staff in her two programs.
For more information on PVCC's ECE program, visit the website or contact christie.colunga@paradisevalley.edu.