Wednesday, August 23, 2023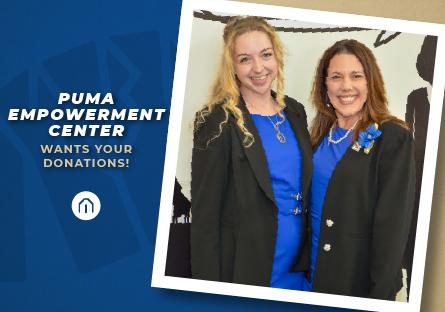 The Puma Empowerment Center, located on Paradise Valley Community College's Union Hills campus, is open and ready for business.
After a grand opening celebration and soft launch in May 2023, in partnership with Dress for Success Phoenix, the new career readiness center began helping students and community members with a wide variety of services and resources. Since the fall 2023 semester began, the center has seen an uptick of traffic coming in for professional attire fittings, as well as inquiring about the many services offered including coaching, workshops, job procurement, resume writing, and interview skill training.
"We couldn't be more excited and pleased with the feedback we are receiving on the The Puma Empowerment Center," said John McCrudden, career services advisor. "Now we just need to keep spreading the word and receiving donations."
McCrudden, who initially contacted Dress for Success Phoenix about extending its services to the campus, said there is currently a big push for donations to the center - professional attire for both men and women, as well as monetary donations. Clothing donations are being accepted on the third Thursday of each month from 11 a.m. to 3 p.m.
Items needed include women's blouses, dress pants, skirts, blazers, closed-toe pumps and flats, handbags, and jewelry, as well as men's dress shirts, pants, blazers, neckties, and shoes. To ensure students look and feel their best, fashionable, current clothing in great condition is appreciated. The center also takes donations of unused makeup, shampoo and conditioner, and deodorant.
"By partnering with Dress for Success Phoenix, we are providing a service that will truly empower everyone who enters to leave knowing they are cared for, supported, and being set up for success," said PVCC's Interim President Jana Schwarz. 
 Officially called The Puma Empowerment Center powered by Dress for Success Phoenix and the Puma Food Pantry, the center offers an array of resources serving men and women throughout the community. The center's first customers were members of PVCC's Spring 2023 graduating class, who were fitted for a week's worth of professional attire.
The partnership is the first of its kind for PVCC, Dress for Success Phoenix, and the Maricopa County Community College District. By providing resources to help address the day-to-day challenges like food, preparing for interviews and looking the part for an interview, the center helps keep students focus and energy on education.
PVCC's Puma Pantry was created in 2017 and helps students overcome food insecurity in order to focus on their educational goals. Students have access to non-perishable food items and basic needs such as toiletries, hygiene products and cleaning supplies. In spring 2022, PVCC created the Little Free Pantry around campus, where students could grab a quick snack more discreetly.
Dress for Success Phoenix has assisted over 22,000 women since opening its doors in 2009. The mission empowers women to achieve economic independence by providing a network of support, professional attire and development tools to help them thrive in work and in life. Any woman referred by a community partner is eligible for free-of-charge programs and services. Dress for Success Phoenix is an independent 501c3 non-profit organization and an affiliate of Dress for Success Worldwide. Funds are raised locally and have a direct impact in our local communities.