Thursday, November 2, 2023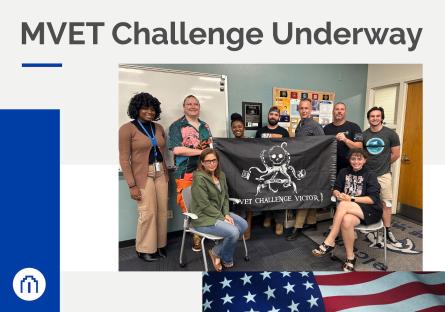 The 2023 MVET Challenge is underway! As reigning champions of last year's challenge, Paradise Valley Community College needs your help to keep the crown. 
The 4th annual MVET Challenge is a friendly competition amongst Maricopa County Community Colleges to raise awareness and support for our veteran community. Show your pride and support our veteran employees, students, and families by becoming a MVET member or giving your time and goods to our Food & Hygiene Drive now through December 8, 2023. All donations will go to the MANA (Marines, Army, Navy, Airforce) House, a peer-support organization of homeless and formerly homeless veterans.
"The MVET drive helps encourage community participation and awareness and makes a difference in the lives of the Vets receiving the donated items.  Donating is a great way of improving the conditions in the community and it is very important because it shows appreciation for Vets who have served their country," said Faith Yiinyuy, VA Student Workstudy. 
How to Participate 
The winner of the MVET challenge is determined by a point system and there are several ways to earn points for your PVCC team.
Become a member for $20 and receive 8 points for each sign up

Donate non-perishable food items to PVCC's Food & Hygiene drive and receive 50 points to 10 points for 1st, 2nd, 3rd, 4th place respectively. 
Learn more by contacting Lance.Miller@paradisevalley.edu.