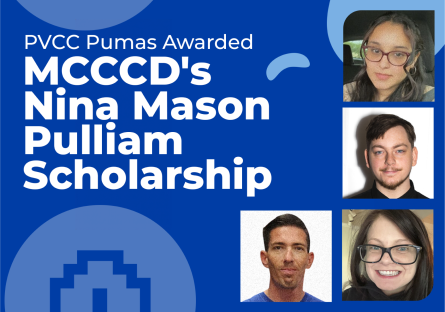 Paradise Valley Community College is excited to announce that four Pumas were amongst the 2023-2024 cohort of Nina Mason Pulliam Legacy Scholars. Aaron Amaral, Samantha Fusco, Cristina Vanegas, and Jeremy Walk joined six Maricopa County Community College District (MCCCD) students for this unique opportunity for students from disadvantaged backgrounds to obtain the resources and financial assistance needed to successfully complete their college education.
"I am so immensely proud of our Puma Scholars!  As a first-gen student myself, I didn't always know how college or all the other stuff you needed was getting paid for. Programs like this one taught me there were not only people willing to donate their money, but their time cultivating relationships. I continue to reap the benefits; I wish the same for our scholars," said Dr. Amina Simmons, executive director Diversity, Equity, and Inclusion, PVCC.
The program, also called the Nina Scholars Program, covers full tuition, fees, books/supplies and provides a living stipend to every scholarship recipient. It also provides legacy scholars with an academic mentor, peer mentor, and alumni mentor to support them throughout their journeys.
Hear Their Stories
Aaron Amaral is studying computer science but is also interested in pursuing business and astronomy down the road. As a baby, Amaral endured a life saving surgery but his hardships didn't stop there. He spent much of his childhood in foster care, medicated heavily for his Attention Deficit Disorder (ADD), braved another health scare, before finally being placed back with his birth mother where they relied on government subsidies to survive. The first-gen college student said he initially dropped out of high school during the pandemic because he couldn't focus on online classes. He worked in the restaurant/service industry for two years seeing first-hand how his older co-workers were living paycheck to paycheck. "They were comfortable with their jobs, but not living a comfortable life," he said. "That was another push for me to go back and finish high school and eventually attend college. I realized I needed to get a higher education if I wanted a better future for my family." Amaral said receiving the Nina Mason award has re-energized him to push forward and realize his dreams. "I always told myself when I started high school, 'Four more years of school, then I'm done!.' The irony of how I am now repeating that same phrase. It's honestly unreal… I never thought I could receive such a gift."
Samantha Fusco is a second-year student studying business and information technology, and wants to run her own business one day. As a single mom, Fusco knew she had to be a good role model for her young daughter, so she decided to enroll in school and pursue a degree. "I work full time, carry a 4.0 GPA, take care of my daughter; it's a lot, but I knew I needed to do more and provide for my daughter. Fusco proactively searched online through the hundreds of scholarship opportunities, earning the Phoenix Promise Scholarship, and now the Nina Mason award. "What I want students to know is it's never too late. I messed around a lot in my 20s, screwed up my life, but my daughter saved me and forced me to reevaluate my life and take another path. I refused to fail, and this scholarship has afforded me the opportunity to do something bigger with my life."
Cristina Vanegas is a sophomore studying social work and also a first-generation student. She lived in foster care from age six to 18, and graduated from a small charter school at 19. "I was skeptical about going into college as none of my family members had gone beyond high school. Finally I was encouraged by my old high school teachers, who are now my legal parents through an adult adoption, to give it a try… and the rest is history," said Vanegas. "I am super grateful to receive this award because even though I now have people to support me through life, college is very expensive and I was working full-time to make ends meet."
Jeremy Walk is a second year student studying social work. The father of four has overcome a traumatic and unstable upbringing and overcome financial mismanagement to find his way to PVCC. "I've never really been one anybody would consider lucky or a winner. I've scraped from everything I have and being afforded this kind of opportunity is absolutely a once in a lifetime experience… the coolest accomplishment," Walk said, sharing that social work is his calling. "I've never had peace of mind and direction in life. I don't know yet which direction I will focus on but I will know it when I see it. Maricopa has opened the door and I fully intend to walk through it."
Additional scholars from MCCCD's sister schools include Gabriella Bensor, PC, Sonography, Jasmine Collins, MCC, Law, Megan Kline, GCC, Business, Josslyn Kurt, GWCC, Nursing, Sha'Kia Lorthridge, GWCC, Nursing, and Danielle Svasek, SCC, Social Work.
Scholars have up to six years of scholarship eligibility, including up to four years to complete their associate's degrees at MCCCD, and an additional two years to complete their bachelor's degrees.
MCCCD Offers Bachelor Programs
Beginning in Fall 2023, MCCCD now offers bachelor's degree programs. In an effort to best support our scholars, the program has expanded to now include those who wish to continue their studies at a Maricopa college. Scholars will continue to have the opportunity to transfer to ASU through the ASU Nina Scholars Passport Program.
For more information about the program, visit maricopa.edu/nina-scholars or any programs at PVCC, visit our website.