Wednesday, August 16, 2023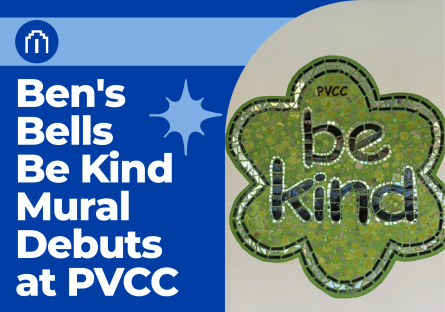 Paradise Valley Community College continues to adorn its Union Hills campus with beautiful and impactful ceramic mural projects that represent diversity, equity, and inclusion – all of which are part of the college's vision and values. Following on the heels of PVCC's Seven Core Values and Water for Life ceramic murals, PVCC recently debuted Be Kind, a tribute to Ben's Bells kindness initiative. The flower-shaped mural stands front and center in PVCC's Puma Cafe in the KSC building and is a steadfast reminder of PVCC's ongoing commitment and work in civility, care, and kindness.
The idea for a ceramic mural blossomed out of a Ben's Bells event held on PVCC's Union Hills campus. The Education program invited volunteers to decorate bells that were then randomly placed throughout the community with a note attached explaining the non–profit organization and its mission to spread kindness.
Dozens of volunteers – staff, faculty, students, and community members – came together to help bring PVCC's vision to life. Participants could make their pieces into any shape they wanted. Examples included a cactus shape, a dog bone, hearts, stars, handprints, and more. There are more than 300 tile pieces in the six-by-six foot mural.
Stop by the KSC building and check it out!