Wednesday, September 13, 2023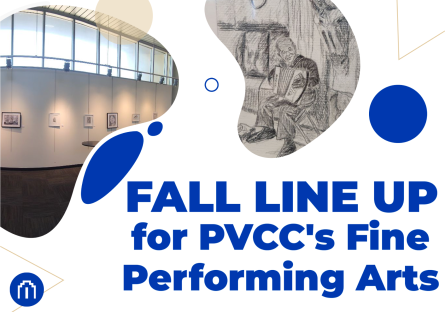 Paradise Valley Community College's Division of Fine & Performing Arts has a remarkable season of art exhibits and events scheduled in the Center for Performing Arts. After a successful Fall Exhibits Season Kick-Off last month, faculty, staff, and students are eager to share what they've been working on in various free exhibits, receptions, and concerts throughout the semester.
PVCC Visual Art Faculty Showcase exhibit will run September 23 through October 15 with a kick off reception at 5:30 p.m. on September 27. The evening includes a screening of 'City of God' as part of PVCC's International Film Festival (IFF), at 6:30 p.m. Watch the trailer here.
Local Artists Spotlight – Tess Mosko Scherer (2D) and Matthew Werner (Wood Carvings) runs October 28 through November 19 with a reception at 6 p.m. on November 9. The evening will also include a preview of PVCC's theater production of 'Shakespeare in Love' at 7 p.m. Tickets for the theater production, which runs November 10 through November 19, are available for purchase here.
PVCC Visual Art Student Showcase - Fall 2023 begins November 29 and runs through December 14. A reception will be held 6 p.m. on December 5 and will include a classical ensemble concert at 7 p.m. Both events are free.
Free Concerts and Showcases
Additional free performances scheduled at PVCC's CPA include:
Latin Music Concert, 7 p.m., September 23, 2023
Music Ensembles Mid-term Concert, 7 p.m., October 18, 2023
Alice Cooper's Proof is in the Pudding Music and Dance Competition, 5 p.m., October 20 and 21, 2023
Fall 2023 Dance Collection, 7 p.m., December 1 and 2, 2023
Classical Ensembles Concert, 7 p.m., December 6, 2023
Music Industry Studies Fall 2023 Showcase, 7 p.m., December 7, 2023
Esports Tournament, 10 a.m., December 9, 2023
Ticketed Events
The PHX Rock Orchestra performs classic and modern rock hits with vocalists, a six-piece rock band, and a 24-piece string orchestra. Two performances: 8 p.m., October 7, 2023 and 2 p.m., October 8, 2023. Tickets can be purchased here.
PVCC Theater presents Shakespeare in Love, 7 p.m., November 10, 11, 17, 18 and matinee 2 p.m. shows November 12 and 19. Purchase tickets here.
PVCC's International Film Festival
The film festival returned for its 24th year at CPA with the following films remaining:
Caché (R; 2005, France/Austria, 115 minutes), October 11, 2023
A Regular Woman (NR; 2019, Germany, 90 minutes), January 24, 2024
Open Your Eyes (R; 1997, Spain, 119 minutes), January 31, 2024
Gallipoli (PG; 1981, Australia, 110 minutes), February 7, 2024
Ashes in the Snow (NR; 2018, Lithuania, 98 minutes), February 14, 2024
As in years past, admission is free and open to the public. Doors open at 6 p.m. and each film begins promptly at 6:30 p.m. at the Center for the Performing Arts, 18401 N. 32nd Street in Phoenix. A post-film discussion will take place with Gary Zaro, director of PVCC's Film Festival.
For additional information on all of CPA's events, visit https://www.paradisevalley.edu/center-performing-arts.