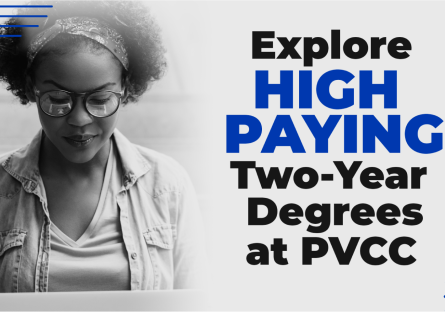 In today's competitive job market, having a college degree is often seen as a prerequisite for securing well-paying jobs. However, a four-year bachelor's degree isn't the only path to success. Two-year associates degrees at Paradise Valley Community College can also lead to lucrative careers and substantial earning potential.
Associate Degree in Cybersecurity
Cybersecurity professionals use their knowledge of computer systems and security threats to identify and mitigate vulnerabilities. This industry is projected to grow 33 percent by 2030 with professionals making upwards of six figures in a variety of settings including business, government agencies, and educational institutions.
PVCC's Cyber Security associate's degree program offers three tracks – Cyber Operations, Cyber Engineering, and Cisco Networking and Security, all of which prepare students for internationally recognized IT certifications such as Cisco CCNA, Certified Ethical Hacker, Security+, and Linux+.
Associate Degree in Nursing (ADN)
The demand for skilled nurses is consistently high, and nursing programs equip students with the knowledge and skills needed to provide essential patient care. According to the Bureau of Labor Statistics (BLS), registered nurses with an ADN earned a median annual wage of $75,330 in May 2020. As the demand for nurses continues to grow, hospitals, clinics, and long-term care facilities are among the top employers for ADN-educated nurses.
PVCC's Nursing Program partners with MaricopaNursing, a program committed to preparing students for the complexities of current nursing clinical practice.
Associate Degree in Accounting
The complexity of financial regulations and the need for accurate financial reporting make accountants essential in the business world. An associate degree in accounting provides a solid foundation for entry-level positions and can lead to higher-paying roles with additional experience and certifications. Accounting professionals and auditors working in various sectors such as public accounting firms, government agencies, and corporations, can earn a median annual wage of about $73,000.
PVCC's Accounting associate's degree allows students to choose a focus between either tax or accounting. If a student chooses the tax track, it aligns with the Enrolled Agent (EA) exam to become a federally licensed tax professional. For the accounting pathway, students can earn their certified bookkeeper (CB) credential.
Associate Degree in Health Technology Systems (HTS)
The HTS field is experiencing rapid growth, with a growing demand to transition to electronic health records and need for data security, HTS professionals are responsible for maintaining electronic health records, which are essential for patient care, billing, and research.Technicians in this field work in healthcare settings, managing patient records and ensuring data accuracy, and can expect to earn around $44,000 annually.
PVCC's HTS associate's degree program includes courses with a mix of IT and healthcare-related subjects that cover programming, data integration, web design, database management, healthcare operations and more.
Associate Degree in Emergency Medical Technology (EMT)
EMTs and paramedics play a vital role in emergency medical care, with a projected job growth of six percent through 2030. PVCC works directly with local EMS agencies, fire departments, and hospitals to be able to offer the highest quality education, cutting-edge equipment, and the very best instructors in the industry. These combined help make PVCC graduates ready to enter the field with knowledge, skill, and confidence. Working all over the world for EMS and ambulance services, hospitals, fire departments, the job demands quick thinking, medical expertise, and the ability to remain composed under pressure, which justifies their competitive salaries. EMTs and paramedics can expect to earn a base salary around $36,000 (plus overtime). 
These high-paying two-year degrees open doors to rewarding and well-compensated careers. They highlight the diverse opportunities available for those seeking a shorter educational path to financial stability and professional success. For more information, visit the PVCC website.