Tuesday, September 5, 2023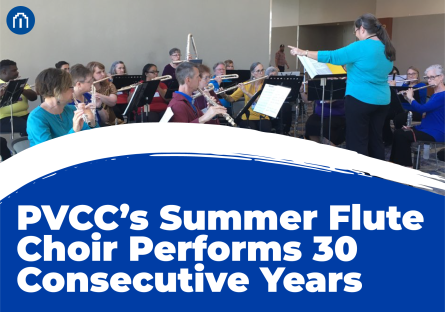 It's been a big year for the music program at Paradise Valley Community College and its flute ensembles. Captivating music and arts lovers throughout the community, PVCC's Summer Flute Choir has performed each and every summer at the college's Center for the Performing Arts since 1994; even the pandemic couldn't extinguish the light on this free concert. 
The flute choir consists of students and members of PVCC's surrounding community, ranging in age from high schoolers to octogenarians, many of which play multiple flute instruments including piccolo, C flutes, alto flutes, bass flutes and contrabass flutes. The quartet is assembled by audition with musicians skilled at playing all the variations of flutes.
This year's performance kicked off a momentous week for PVCC students and educators, who also performed at this year's National Flute Association's 51st Annual Convention, held in downtown Phoenix, Arizona. The convention theme "Beyond Borders" celebrates the cultural and artistic diversity of NFA's global flute community. PVCC's flute choir, along with the college's Flautas Paraiso Quartet, dazzled attendees, all of whom are members of the international association.
"I couldn't be more proud or excited for our musicians," said Dr. Lee Chivers, PVCC's flute choir director, who submitted the audition tape and proposed program to be selected to play. "Gaining exposure to this international stage is something many students only dream of. They've worked so hard for this achievement."
"It is quite an honor to be selected to perform at the convention and, for flute players, it is a joy to attend the convention and totally immerse yourself in the beautiful sound of this lovely instrument," said Flutist Nancy Sowers, who founded the choir in 1993 and has been performing with them for all 30 years. Chivers took over in 2009.
"It's a well known fact that flute players just want to play their flutes," Sowers explained, saying that once their schooling is over, whether it be high school or college, there are not many places to play.  "A flute choir is perfect for giving flutists a wonderful community where they can keep playing, learning, and making music! For 30 years, PVCC has provided a safe, nurturing, challenging, and supportive atmosphere for flute players! The camaraderie in the group has led to many close friendships as all of the members share their love for the flute and making music!  It's such a joy to work together and see the progress, week after week, that the ensemble makes.  And then the final concert brings a real sense of accomplishment to the entire group."
The NFA brings together roughly 5,000 members from more than 50 countries including soloists, orchestral players, jazz and world music performers, teachers, adult amateurs, and students of all ages. More than 1,000 attendees and 80 exhibitors attended this year's convention selling everything flute from jewelry, totes, music, cases, bookmarks, hats, and instruments. The four-day event included hundreds of workshops, masterclasses, competitions, and performances.
For more information on PVCC's music programs, visit our website or contact lee.chivers@paradisevalley.edu.