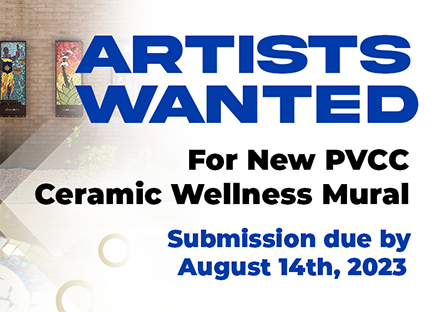 Artist wanted for new PVCC ceramic wellness mural
Submission due by August 14th, 2023
PVCC is offering a public art opportunity for a local artist to design and fabricate a ceramic mosaic mural on the theme of Wellness. Wellness is one of the core values of Paradise Valley Community College. PVCC is dedicated to promoting wellness among students, faculty staff and community members. A permanent work of public art will serve as a reminder to all of the importance of Wellness in our lives.
The Global Wellness Institute defines wellness as the active pursuit of activities, choices and lifestyles that lead to a state of holistic health.
Artists are asked to submit a portfolio of no more than 10 artworks, design and fabrication experience of ceramic murals desired, but not required for this project. One selected artist will begin working with students at PVCC to design the mural, and then work with ceramics faculty and students to fabricate the elements of the mural. Once fabrication is complete, the installation will be completed by the artist along with students and faculty.
Selected artists will be expected to be on campus on a regular basis working with students and ceramics faculty to design, fabricate and install the mural collaboratively by May 2024.
This is an opportunity for an artist to work on a larger scale with ceramic materials than they may have done before. The artist will work collaboratively with ceramics faculty and students to create a lasting visual expression for the campus and community in a material they may not have much experience with.
*Design and fabrication experience of ceramic murals desired but not required.
For more information, contact David L. Bradley: david.bradley@paradisevalley.edu | (602) 787-6615