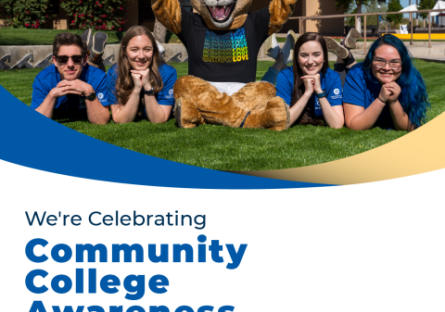 Public community colleges are a uniquely American educational model designed to guarantee access to affordable, high-quality higher education for all people. 
Consider community colleges:
Are the primary educators of life-saving nursing and other healthcare professionals, among many others. 
Serve as an onramp to bachelor's, master's, and higher-level degrees for many students, particularly for demographically and socioeconomically diverse students. 
Guarantee fair admissions for all students and offer support for adult students who have to work to support their families. 
As one of the ten colleges within the Maricopa County Community College District, Paradise Valley Community College (PVCC) provides workforce development programs for the highest demand jobs, as well as the largest source for university transfer services. We help people meet basic food, housing, and other needs by hosting food banks, health care services, and veteran's services. 
Our students come from diverse backgrounds, ethnicities, cultures, and learning experiences. We are proud to highlight the accomplishments of the following alumni and students who chose community college to enhance their educational journeys.
Audrey Hajek is an alumna of the college's paramedicine program. Hajek's academic journey was made possible because of a scholarship through PVCC's generous donors' endowment program. Without the financial burden many students face in higher education, Hajek could be more involved in the college community, joining clubs, volunteering, and eventually networking. 
Emma Magana is a first-generation student who discovered transformational success at PVCC. While earning her associate's degree, Magana threw herself into various organizations around campus and worked in Student Life, discovering insurmountable growth both professionally and personally. 
Jeremiah Horton moved to Arizona from Mississippi after high school in hopes of finding a welcoming, creative, and diverse environment to continue his education. He discovered PVCC and is pursuing an associate's degree in arts and an applied science degree. As a musician, dancer, writer, and poet, Horton treasures the relationships he has built through his involvement with various groups at PVCC.
Serving the Community
Community colleges are dedicated to improving the communities and neighborhoods in which we live and work. As such, PVCC offers a variety of events that are open to the public. April events include:
The Center for Performing Arts showcases in-person events in art, music, dance, and theater.
In partnership with Fiesta Bowl Charities, Festival of Tales brings literature, music, and arts to life for local children and provides over 8,000 books per event to children in the community.
The International Film Festival is the most popular form of art and entertainment globally and an excellent way to engage the community.
Other ways to show your support:
Rave to your friends. PVCC offers an engaging campus environment with many avenues to explore educational leadership, civic engagement, service, wellness, and cultural activities. And while you're at it, earn your two-year degree for a fraction of the cost before transferring to a four-year university. 
Change a student's future with a donation. Public support for our college is more important than ever and directly impacts a student's life. PVCC offers many scholarship opportunities for our students due to your donations. Donate today.
Share with others. If you are a community college graduate, others can benefit from reading your story. Share it on social media with #ccmonth and spread the word.