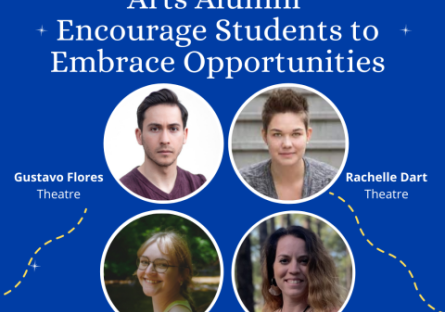 The inspiring Panelists and their current areas of career focus:
Nicole Collingwood, Creative Writer
Rachelle Dart, Theatre
Ashley David-Watkins, Dance
Gustavo Flores, Theatre
Four PVCC Alumni were the featured panelists for the Visual and Performing Arts FOI Career Panel on April 12, 2022. They shared their insights on the following questions.
Was there a key moment in time that influenced you in your career path? If so, please share.
Ashley - At an early age I watched my sisters dance and knew I wanted to do that, too. I was initially taking medical classes and doing dance on the side. PVCC gave me the courage to follow my passion and make the leap because of the strong dance program.
Gustavo - Early in high school I thought theater was not for me, but one of my teachers encouraged me to "go for it." PVCC gave me the opportunity to hone and harness my skills and artistic power with the variety of classes offered, such as stage combat and script writing.
What advice would you like to share for current students interested in Visual & Performing Arts related professions?
Nicole - don't solely rely on your talent and bettering your craft. I also found that it's important to take opportunities not necessarily directly related to writing. I've been able to collaborate on projects and this has made my resume so much better.
Rachelle - A professor told me, "When a door opens, walk through it." You don't know where it will lead. Train hard - there is a lot of rigor in what we do, take workshops, work on your craft. If you are not training you're not supporting yourself. She tries to remember this motto, "You don't rise to the occasion, you sink to the level of your training. Train well!" Train, train, train. Collaborate and do what is outside your area of expertise.
There are many different career paths in the Visual & Performing Arts profession. How would you advise students on how to choose their path?
Gustavo - Take advantage of as many things as you can. Go find out what there is to do in the arts. Lots of opportunities in the valley. Find what you like and you'll want to work harder. Stretch your limbs. Ask for an outside, third-party perspective: What do you see in me that I may not see in myself?"
Ashley - Diversify yourself. As a dancer, it's valuable to develop your teaching and education skills, especially if you want to relate to your students. You can sustain your career a lot longer if you diversify yourself. You never know when you'll need those skills.
Is there anything you would have done differently on your educational journey? If so, please share.
Rachelle - I wish I would have looked at professional opportunities earlier on in my career. I was afraid of being imperfect. Just auditioning for professional and community theatre is important even if you don't get the role. It is still a learning opportunity.
Nicole - Don't let opportunities pass by because you're afraid or not used to something. I wanted to be a professional in creative writing but had to find a balance between working to make a living and doing what I'm passionate about. You may take a survival job and use it to fuel who you are in terms of what you love to do.
What do you know now that you wish you had known before you chose your career path?
Ashley - Hindsight is 20/20. It's important to reflect on your mistakes. I wish I would have allowed myself to make mistakes.  It's about taking risks. Interview for the job, people are willing to train you. Don't allow people to dictate what you do. The worst thing that can happen is "no."
Gustavo - It takes time. You need to be willing and able to put in the time in building meaningful relationships and skills.
What was your biggest challenge in your educational journey and what did you do to overcome it?
Nicole - I had to overcome my own anxiety of talking to people. It was difficult to train myself to get out there. Through practice it gets easier. Allow yourself to take the time and deal with the fear. "Give yourself grace."
Rachelle - My challenge was overcoming dyslexia and ADHD. I utilized the Disability Resource Services at PVCC and ASU. Let your professors know who you are. I talked to my professors on day one to explain my challenges which also enabled me to build relationships with them. "Weaknesses can turn into strengths in other areas and also turn into opportunities."
How have your experiences at PVCC either directly or indirectly impacted the work that you do?
Gustavo - I took fight choreography at PVCC. Due to this experience, I was hired as a fight captain which is something I did not expect to be doing. Make connections with fellow students, the faculty, etc..
Ashley - I was mentored by Sonia Valle, Dance Program Director at PVCC. She went above and beyond in teaching skills, technique and choreography.  She connected me with another student at ASU and also a grad student who put me in her MFA project. I believe it was invaluable to go to a community college and not feel like a number and make connections for the future. This has served me well.
While you were a student, were there any internships, job shadowing, volunteering or work experience that helped you gain employment after graduation? If so, please share.
Rachelle - I was a teaching assistant for Andrea Robertson, Director of PVCC's Theatre Program. I also shadowed her on a visit to the Arizona Opera and also co-taught with her in a high school classroom which allowed me to meet teachers in the PVUSD where I work now.
Nicole - Just going to class offered so many opportunities. I have entered writing competitions and attended workshops. Talking to peers and professors has led me to worthwhile experiences in editing and publishing.
 
Questions from the audience:
What professional organizations do you belong to?
Ashley - NDEO - National Dance Education Organization - Professional development opportunities are offered throughout the year; summit in the fall; opportunities to do performances. Phi Theta Kappa at PVCC - Attended a conference in Nashville and heard speeches that just made me want to be better.
Rachelle - Society of American Fight Directors; Durant Auditions; VASTA-voice over artists; presented at VASTA international conference in Singapore.
Nicole - Desert Nights Rising Stars at ASU - excellent writing resources and networking opportunities
What has been the biggest surprise in your field?
Ashley - Being able to find so many jobs from one degree; having a job doing what I love; seeing the excitement of my students and being inspired and inspiring others.
Nicole - I never expected writing to give me fulfillment in social aspects of life sharing and collaboration. It's easier to grow when I'm around other writers and people who are passionate about the same things I am. Empathy and understanding of others.
Rachelle - My biggest surprise is seeing what happens when I step out of the way and facilitate a space for students. During a puppetry unit, students gave their puppet a name and experienced emotions through them and they still go to their puppets to help them express their feelings. Supporting younger artists is really important.
Through studying the arts, you have learned skills that don't directly relate to the arts. Have you had any "ah-ha" moments?
Nicole - Writing helped me to learn to practice empathy and patience and offer heart-felt critiques to others in workshops.
Ashley - I've learned leadership skills which are really important especially as a female; how to be in charge of a program, speaking in front of parents, professors and colleagues and how to organize events.
Rachelle - I've learned tech theatre, such as using power tools, building things, painting and safely climbing ladders. I've learned the importance of having awareness and the ability to take a perspective that's not your own.
What are your dreams?
Ashley - I want to dance until I'm in my 80s, 90s, even 100! Never stop learning, never be stagnant.
Nicole - Write everything I want to write. It takes time and patience to get it all out on paper.
Rachelle - There is a shift in caring for people, respecting artists and their diversity, identities, emotions and bodies. Paying artists for their work/skills.
What are current trends in your field?
Rachelle - A movement toward intimacy choreography, a respect for actors' back stories, where are your "fences."
Ashley - There is more respect for different body types and capabilities, as well as the importance of body positivity.
Nicole - There are more opportunities for everyone; more space for the voices of everyone.
How do you manage the work life balance?
Ashley - Learn to say no; stay organized by using a planner; prioritize; give yourself permission to do what you love; make yourself important. Give yourself space.
Rachelle - Structure and routine is really important; with routines you have fewer decisions you have to deal with. Take time to transition from work to home life. Create rituals around transitions.
Nicole - Devote time to purely just writing; writing is most important to me.
Was there a moment you felt like giving up?
Nicole - I have felt like giving up quite often, but knowing there are people who believe in me and having professors to go to for advice has given me so much inspiration and has given me the power to believe in myself.
Rachelle - "Hope is not an emotion; it's a way of thinking or a cognitive process."-Brene Brown
Yet, hope is a skill that can be practiced. Practice gratitude on a regular basis (such as making a list of things you are grateful for before you go to bed).
Ashley - It may be time to give up on one thing and go to another thing. This takes bravery. Know when it is time to change or pivot.