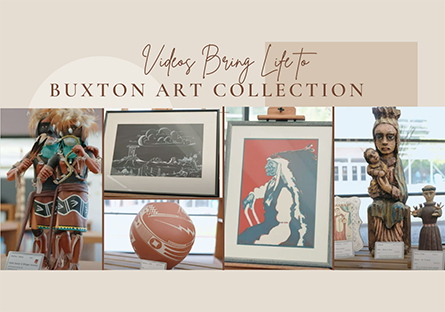 Did you ever wonder how the library at PVCC got its name? When you enter the E building or walk through the library, you'll discover an extensive collection of Indigenous art and American West art. Former computer science professor Dr. Warren Buxton and his wife, Jo, collected these fascinating pieces. They were active members of the Heard Museum in the 1960s and began collecting art at that time. 
The Buxton collection today is estimated to be worth over $400,000. The collection includes artists from across the Americas representing a variety of media including katsinas, pottery, stone, wood figures, beadwork, batik, watercolors, oils, etchings, etc. We have unique pieces by internationally known artists whose work has been featured at the Smithsonian, including Helen Cordero's storyteller figures, Maria Martinez's black-on-black pottery, and a Frank Brito bulto.
The Buxtons decided to donate the art to the college when Mrs. Buxton became ill, and it became necessary for them to sell their home where the collection was displayed. She died in 1997. The PVCC college library was renamed in 2011 for the Buxtons in appreciation of their generosity. Sadly, Warren also died in December 2018.
A commitment to reintroduce our campus to the collection and highlight specific objects that are meaningful to college faculty and staff led to the creation of a series of short videos about selected exhibit pieces. This YouTube series created by the Buxton Library Archive team with the leadership of Paula Crossman, Library Division Chair and Versha Anderson, Residential Faculty - Communication, Humanities and Languages Division, provides insight into some of the history, cultural context, artists, and people represented in the collection as well as the origins of the Buxton Collection. Enjoy!
Residential Faculty and Art Historian, Tomi Johnston, presents "Patriotic Indian" by Fritz Scholder and "Monument Valley" by Harrison Begay.
Recruitment Staff, Courtney Billy, presents the lithograph of "Blue Lady" by Diné (Navajo) artist R.C. Gorman as a Navajo woman and R.C. Gorman is an enthusiast herself.
Counseling Faculty, Andrea Macias- Murrieta, speaks about the importance of a Kachina Doll made by artist Henry P. Shelton and the relation to the village in Oraibi where her grandfather and Shelton are both from. Featured piece Henry Shelton's "Snake Dancer and Whipper".
Manager of Student Care and Conduct, Norma Chandler, speaks about New Mexican artwork, bultos and retablos, as a Northern New Mexico Native and presents the history of these items. She presents a bulto by artist Frank Brito and a retablo by artist Marie Romero Cash.
Library and Information Science Division Chair Paula Crossman recounts the art collections' history and her experience meeting the Buxtons.
Adjunct faculty and librarian, Sylvia Frost, recounts a memory with, art collector, Warren Buxton.
Resident Faculty of Visual Arts, David Bradley, talks about a Quezada Pottery piece in the Buxton Collection and the history of Quezada Pottery of Chihuahua, Mexico.