Monday, November 28, 2022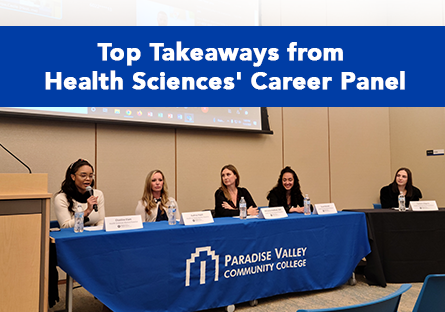 Continuing its series on Alumni Career Panels, Paradise Valley Community College recently brought together several alumni in various health science disciplines, including nursing, fire sciences, and health technology.
Panelists included:
Chastine Elam - Nursing - Patient Care Technician
Audrey Hajek - Paramedic
Adrionna Hatfield - SMC Manager, Pharmacy Finance Operations
Susan Karoubi - Naturopathic Medicine Medical Student
Anthony Kern - NDTR - Dietician.
Here are the main takeaways from their inspiring stories:
It doesn't matter when you start - Whether straight out of high school or at various stages within your adult life – commit now and good things will happen. Whatever your juggling, PVCC faculty have a wonderful reputation of supporting you. Commit 100 percent and good things are in store for you.
Everyone has a past - Use your experiences and history to discover your passion. Apply yourself to your chosen path, self-reflect often and watch how it evolves. Don't fight it. Your experiences will guide your path.
Never stop networking - Building connections through networking will open doors. All the panelists agreed it was top priority regardless of what program you pursue. Get involved; join organizations (as many as you can), and introduce yourself time and time again to those working in your field of interest. Share your journey and solidify those connections.
Never stop growing - Always continue to learn and stay relevant; everything is related. There are so many avenues you can pursue. You might start off in one area, which leads to another you never imagined.
Everyone and everything is connected - Don't get discouraged in your classes. You will find the knowledge and information you attain will connect later as well. And don't burn bridges, health care is a 'small world.' With an open mind, success is waiting.
PVCC's Health Science programs include: Exercise Science, Fire Science, Paramedicine, Healthcare Technology Systems, Nurse Assistant, Nursing, and Nutrition and Dietetics. For more information about Health Sciences visit the website. To listen to the panel discussion in its entirety, follow this link, password ArB5mm3U, or email cecile.babich.morrow@paradisevalley.edu.