Tuesday, October 11, 2022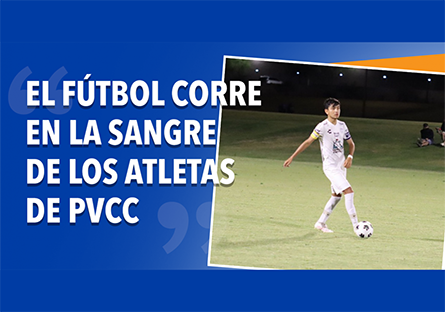 El Fútbol Soccer corre en la sangre de los atletas del Colegio Comunitario de Paradise Valley
Manuel "Manny" Zambrano nació y fue criado en Phoenix, aunque su familia tiene raíces de Sinaloa, México, donde descubrió su amor al 'futbol' por primera vez, él es orgullosamente un jugador del Colegio Comunitario de Paradise Valley.
Algunas de sus memorias:
"Cuando fui a México, vi que el fútbol soccer se jugaba de manera diferente y el ambiente y la energía eran tan contagiosas", Manuel dijo. "Todos mis primos jugaron y realmente me involucraban. Tan pronto como llegué de regreso a casa de México, le pedí a mi papá que me inscribieron en un equipo de Soccer".
El Fútbol Soccer corre en la familia de Manny. Su padre jugaba y sus dos hermanas jugaban béisbol universitario en el Distrito de Colegios Comunitarios del Condado de Maricopa. Sin embargo, Zambrano dijo que casi se da por vencido su sueño de jugar fútbol en la universidad por motivos económicos. Fue entonces cuando el reconocido entrenador de Fútbol Soccer en PVCC, Christian DeVries se acercó a él para que se convirtiera en Puma.
"Cuando vi a Manny jugar para uno de los mejores clubes de Fútbol Soccer del país, vi algo
especial en él. No solo fue un excelente jugador, sino que demostró ser un gran líder", dijo DeVries.
"A principios de su primer año en el Colegio, asumió el papel de titular en un equipo con experiencia jugando en la cancha, ganándose rápidamente el respeto de sus compañeros de equipo y, al hacerlo, hizo un inmediato impacto entre sus compañeros deportistas.
Manny tiene el don de hacer de quienes lo rodean – lo mejor de ellos -y eso es un verdadero testimonio de liderazgo". La carrera futbolística de dos años del capitán está llena de elogios, el más reciente es que fue nombrado miembro de NJCAA como el equipo número uno de All American, así como también en las categorías de: Entrenadores y Defensa dentro de esta prestigiada Asociación Deportiva de talla Nacional.
 "Jugar en el equipo de Fútbol de una Universidad de cuatro años ha sido mi sueño desde que era niño y la experiencia futbolística que puedo tener es lo que más deseo'', dijo.
Zambrano, quien estudia Kinesiología en el PVCC, sueña con continuar su formación académica en una Universidad además de jugar al fútbol. Después de culminar sus estudios universitarios él tiene la intención de seguir una carrera en el campo de la Medicina.
_____________________________________
Soccer Runs in PVCC Athlete's Blood
Paradise Valley Community College Soccer player Manuel "Manny" Zambrano was born and raised in Phoenix, although his family hails from Sinaloa, Mexico, where he discovered his love of 'futbol' for the first time.
"When I went to Mexico, I saw soccer played differently and the vibe and energy was just so contagious," he said. "All of my cousins played and they really got me into it. As soon as I got back from Mexico, I asked my dad to sign me up."
Soccer runs in Manny's family. His dad played and both of his sisters played college ball in the Maricopa County Community College District. However, Zambrano said he almost gave up on his dream of playing soccer in college due to financial reasons. That's when PVCC's Soccer Coach Christian DeVries approached him to become a Puma.
"When I watched Manny play for one of the top soccer clubs in the country, I saw something special. He was not just a great player, more importantly he was a great leader," DeVries said. "Early in his freshman year, he stepped into the starting role on a team experienced playing together, quickly earning the respect of his teammates and in doing so he made an immediate impact. Manny makes those around him better and that is a true testament to his leadership." 
The two-year captain's soccer career is filled with accolades, most recently being named an National Junior College Athletic Association (NJCAA) 1st Team All American, United Soccer Coaches 1st Team All American, and a First Team All Region Defender.
"Playing at a four-year university has been a dream of mine since I was a kid and I want nothing more than to have that out-of-state experience," he said.
Zambrano, who is studying kinesiology at PVCC, has dreams of continuing his education at a four-year university as well as playing soccer. After college, he intends to pursue a career in the medical field.