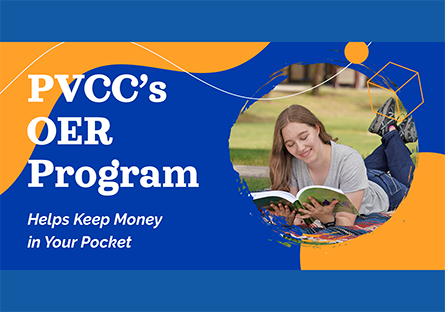 Open educational resources (OER) are one of the fastest growing programs at Paradise Valley Community College. OER includes educational materials and resources free of charge to students, as well as anyone else who wishes to access them. The idea is to reduce costs for class materials, helping make access to higher ed a bit more reasonable. Materials include:
Full courses, course materials, content modules, learning objects, collections, textbooks, lecture captures and journals.
Software to support the creation, delivery, use and improvement of open learning content including searching and organization of content, content and learning management systems, content development tools, and on-line learning communities.
"The beauty of OER is the student's voice is embedded in the curriculum they use," said Senior OER Specialist Jessica Parsons, a theatre major who has been working in the OER department for two years and is now overseeing the program. "Faculty and staff work hand in hand to create relevant, hands-on materials to excite learners. It's an amazing opportunity to take out-of-date textbooks and information and restructure it all to what PVCC students need right now."
"The OER format has saved my students quite a bit of money," said Professor Tomi Johnston. "For example, Art History textbooks have always been expensive because there are high numbers of images in each book. That makes the books more expensive to print, but beyond that, every photograph has a photographer that needs to be paid for their work. All that adds up to a very expensive book!
"Another reason for turning to OER was that textbook publishers are moving from making physical books to proprietary software and websites," Johnston continued. "These are cheaper than traditional books, but still an expense - without permanent access to the material! I figured that if students were being forced into the online world, then at least it should be free."
Maricopa County Community College District (MCCCD) launched the Maricopa Millions OER Project in 2013, but it wasn't until 2019 that PVCC made a strong push to educate its faculty on the benefits.
"Open materials give instructors the freedom to create content that reflects current events, and reduces their reliance on publisher created materials which place a financial burden on students," Parsons said.
"It gives me, as the instructor, incredible flexibility to update my materials whenever a new discovery or new research comes along," Johnston added. "I no longer have to wait for the next edition to include a new tomb, or a new document that reveals things we never knew before.  Certainly, I could always talk about such things in class, but to actually add them to the course materials is a great bonus!"
Professor Julie Lazzara was one of first instructors at PVCC to reach out to the OER specialists. She teaches primarily Introduction to Psychology and Lifespan Development courses in various formats including Honors sections. As part of the 2020-2021 OER Research Fellowship for the Open Education Group, Lazzara created a new learning platform for developmental psychology. The award-winning text book has since been used globally and translated to French.
Thus far, PVCC's OER program has worked on 20 projects and wants to keep the momentum going. The majority of PVCC's math department is currently utilizing OER, helping to keep costs down for students, and many of the science classes are also transitioning to OER. PVCC will continue to add both open textbooks and corresponding question banks for students wanting to complete a Z-degree at PVCC; meaning a student could attain an AA and never have to buy a textbook.
For more information about PVCC's OER program, contact Jessica Parsons at Jessica.Parsons@paradisevalley.edu