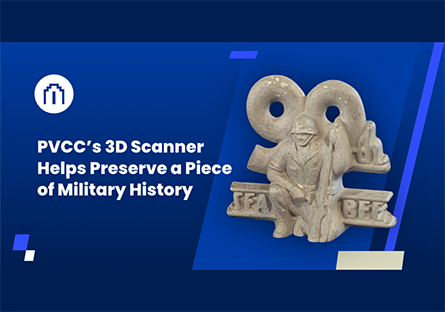 Thomas Coyne was taught at a very young age the importance of history and keeping it alive by taking the time to listen and hear stories of our military veterans. As a boy, the Paradise Valley Community College employee would accompany his grandfather to the Elks Club and other veteran service centers, and his grandfather, a World War II Air Force veteran, would say: giving veterans the time of day to listen to their experiences as a soldier is the best thing you can do for them.
So when the opportunity presented itself at work to keep a part of history alive for a veteran, Coyne was determined to make it happen.
Norman Rachels, a Navy Seabee veteran, was approached by a stranger at a gas station after the man recognized a Seabee logo on Rachels' car. Seabee is a heterograph of the initial letters 'CB' from the words Construction Battalion, a branch of the military that works closely with the Marines.
Like Rachels, the stranger was a vet and struck up a conversation about a Seabee plaque he had received and wanted Rachels to have it. The two exchanged contact information and the stranger mailed Rachels the plaque with a note that read: "I'm glad we met by chance the way we did. The enclosed piece would have been scrapped had I not saved it. I'm sending this to you so it can be given its proper place in a display or collection."
"Brad Baynes, the man I met at the gas station, started the ball rolling," explained Rachels. "He  put his trust in me to do the right thing, to preserve the memento. I have no way of determining how old the metal plaque is, but someone, somewhere made the WWII 90th Construction era plaque for a reason…I promised Brad I would make a copy for him, and myself, and get the original to one of three Seabee Museums."
It would take two more years before Rachels would complete what he set out to do. Rachels needed to get the copies made, making his quest a bit more difficult. Several businesses throughout the Valley could scan the plaque but wanted to charge upwards of $150 each. Someone suggested Rachels contact PVCC and that is where he met Coyne, who was working in PVCC's Information Technology Computer Commons. Although the IT department did not have a scanner, Coyne took Rachels' number and said he would ask around.
Call it what you may, but just a few days later fate intervened when Coyne overheard his computer colleagues talking with PVCC's Technical Director Ryan Wentzel about 3D scanning projects for the college's Center for the Performing Arts. Coyne gave Rachels' information to Wentzel, a Reservist Reconnaissance Marine himself, who in turn reached out to Rachels and took the project to the finish line. 
"The Seabees and Marines have a very close bond, as most Seabees get combat training by Marines several times during their careers," Rachels said. "I knew when I received Ryan's first text and it ended with Semper Fi, that I had found the right helper. It took their team just a few days to do something I couldn't make happen in two years and they saved me big bucks." 
"We need more people like Thomas," said Wentzel, who created two copies of the plaque plus a USB file if he ever wants to make additional copies. "To go out of your way like that for a stranger… this is what it's all about. I think it's a big deal and super appreciated. This is what's so great about our community college. 
"I was just there at the right time and thankfully Ryan agreed to take on the project at no charge," Coyne said.
Sadly, Bayne's passed away in 2021 before Rachels could get him his copy of the plaque. If he cannot track down Baynes' family members, Rachels intends to give his copy to the American Legion in Black Canyon City, Arizona.