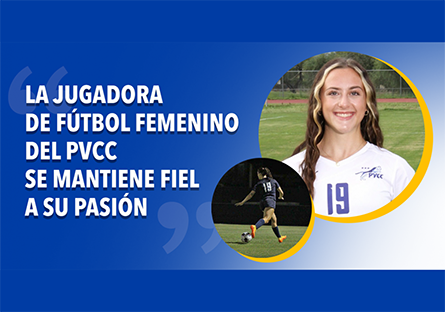 La jugadora de Fútbol Soccer femenino del Colegio Comunitario de Paradise Valley se mantiene fiel a su pasión
Harlee Kuntz, es nativa de Phoenix y ha pasado su vida persiguiendo sus metas. Ella es una mujer apasionada al deporte y el hecho de ser hija única la ha ayudado a tener una imaginación sin límites, con mucha seguridad y confianza en sí misma, Kuntz amaba los veranos de Arizona, nadar y viajar. Incursionó en la práctica de varios deportes como la natación, voleibol y gimnasia, pero el deporte que se quedó en su corazón fue: el Fútbol Soccer.
"Convertí algo en lo que no era muy buena en mi pasión", dijo, explicando que una de las cosas que tenía a su favor era la rapidez.
Cuando su entrenador de Fútbol Soccer juvenil le dijo a todo el equipo que ninguno de ellos era lo suficientemente bueno para jugar en la universidad, la respuesta de Kuntz fue "Mírame".
A lo largo de los años, se dedicó a su deporte, trabajando duro y perseverando. Hoy, Kunz
es una jugadora de segundo año del equipo de Fútbol Soccer femenino del Colegio Comunitario de Paradise Valley y espera seguir jugando Fútbol cuando se transfiera a una universidad de cuatro años. Como máxima goleadora, la versatilidad de Harlee en el campo futbolístico le ha ayudado a su equipo a subir al puesto número 20 en la ACCAC, con la esperanza de competir este año en el torneo nacional.
"La pandemia realmente afectó a muchos jugadores", dijo el entrenador de Fútbol Soccer de PVCC, Christian Devries dijo. "Vi jugar a Harlee en el Surf Cup, uno de los torneos más grandes del país que fue
jugado aquí en Phoenix en lugar de San Diego y tuve la suerte de cruzarme con ella... Sabía que ella necesitaba ser parte del equipo de los PUMAS, tanto como los PUMAS necesitaban de ella y su talento futbolístico. Harlee ha sido una de muchas jugadoras clave para sacar adelante el equipo de fútbol de PVCC de la pandemia al escenario nacional una vez más".
"El entrenador DeVries básicamente me salvó", dijo Kuntz, recordando cómo el proceso de reclutamiento universitario se estancó durante la pandemia de Covid-19 y a los estudiantes universitarios se les permitió jugar una quinta temporada debido al cierre. Esto afectó a los estudiantes atletas entrantes que intentaban ser reclutados, incluidos Kuntz. Muchas de las metas que perseguía cambiaron su curso académico y futuro atlético debido a este inesperado suceso.
Hoy en día Harlee es orgullosamente PUMA y parte de los Becarios del Programa  de Honores Presidenciales, el año pasado Kuntz fue nombrada como miembro activo de entrenadores del United Soccer de All American, así como también del Academic All American y uno de las mejores jugadoras de la ACCAC.
"Harlee ha seguido el camino que muchos de los mejores jugadores no siguen, jugando al nivel de Junior College, y ella ha hecho la diferencia", dijo Devries.
Kuntz, estudia Medicina Deportiva en el Colegio Comunitario de Paradise Valley, planea completar su título de Asociado a principios del 2023 y continuar sus estudios en la Universidad del Norte de Arizona (NAU), donde espera jugar con el equipo de Fútbol Soccer también.
"Mi futuro ya está planeado. Solo estoy siguiendo el camino que me lleva a él", dijo.
__________________________________________________
PVCC Women's Soccer Player Stays True to Her Passion
Phoenix-native Harlee Kuntz has spent her life following her heart. Growing up an only child, Kuntz loved Arizona summers, swimming and traveling. She tried various sports throughout the years including swimming, volleyball, and gymnastics, but one sport stuck: soccer.
"I turned something that I wasn't really good at into my passion," she said, explaining that the one thing she had going for her was "she was really fast."
When her youth soccer coach told the entire team that none of them were good enough to play in college, Kuntz's response was "Watch me."
Over the years, she dedicated herself to her sport, working hard and persevering. Today, Kuntz is a second year player for Paradise Valley Community College's Women's Soccer Team and hopes to continue playing soccer when she transfers to a four-year university. As a top scorer, Harlee's versatility on the field has helped her team climb to 20th in the Arizona Community College Athletic Conference (ACCAC) rankings, with hopes of competing this year in the national tournament.
"The pandemic really hurt a lot of players," said PVCC Soccer Coach Christian DeVries. "I actually saw Harlee play in Surf Cup, one of the largest tournaments in the country that was played here in Phoenix instead of San Diego. I was fortunate to cross paths with her… I knew she needed Puma soccer as much as Puma soccer needed her. Harlee has been one of many key players to bring PVCC soccer out of the pandemic to the national scene once again."
"Coach DeVries basically saved me," Kuntz said, recalling how the college recruitment process stalled during the Covid-19 pandemic and college seniors were allowed to play a fifth season due to the shutdown. This impacted incoming student athletes trying to get recruited, including Kuntz. Many of the leads she was pursuing dried up and changed the course of her academic and athletic future.
Attending PVCC on the Presidential Scholarship, last year Kuntz was named a United Soccer Coaches All American, an Academic All American and one of the top players in the ACCAC.
"Harlee has taken the path many top players don't take, playing at the Junior College level, and it has made all the difference," DeVries said.
Kuntz, who is studying sports medicine at PVCC, plans on completing her Associate's degree in Spring 2023 and continue on to Northern Arizona University (NAU) where she hopes to play soccer as well.
"My future is already planned out. I am just following the path it leads me," she said.