Wednesday, April 13, 2022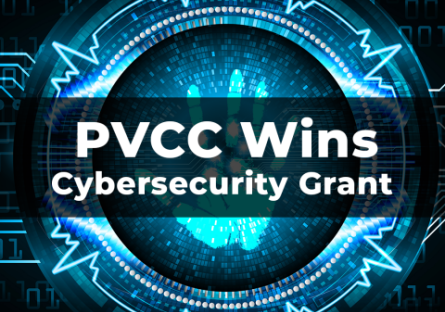 Paradise Valley Community College was recently selected as one of 14 community colleges across the nation to participate in the American Association of Community Colleges (AACC) Cyber Skills for All: Community Colleges Lead the Way initiative, with funding provided by Microsoft Foundation. The grant, which will bolster community colleges' efforts to prepare students for the digital economy, is part of a three-year initiative to build a community of practice focused on elevating cybersecurity pathways through community colleges as a means of economic development.
"We're thrilled to receive this award and to have the opportunity to invest in growing our cybersecurity program," said Dr. Brianna DeGeus, PVCC Executive Director of Strategic Partnerships, who discovered the AACC opportunity through a Microsoft colleague. "The win was truly a collaborative approach involving expertise from faculty, academic affairs, the PVCC grants office led by Dr. Emmanuel Ojameruaye, and the office of strategic partnerships."
"As the need for cybersecurity specialists continues to increase amid threats from bad actors and hostile nation states, recruiting new students, especially those from underrepresented populations is essential," explained Dr. Sean Petty, CIS faculty and team lead on this project. "The $20,000 grant will help recruit and retain students of various backgrounds looking to enter the cybersecurity side of information technology, incorporating lab techs to help with complex lab assignments, a student peer mentor to serve as a guide through the program, and scholarships for those looking to enter into the field of cybersecurity yet lack the resources to do so. And lastly, this grant will help bring PVCC to an audience of institutions and workforce partners looking for IT talent."
"Greater Phoenix is poised to become a premier cybersecurity spot in the current decade," DeGeus added, sharing that according to a Greater Phoenix Economic Council (GPEC) report in August 2021, the global cybersecurity skills gap surpassed three million people in 2020 and closing the skills gap requires strategic investment and cross-sector collaboration at the industry and regional levels.
DeGeus and Petty, will work with AACC and workforce leaders across the U.S. to learn more about best practices for strengthening and growing cybersecurity programs, and leverage the knowledge gained to build momentum for the terrific program PVCC developed.
"Building a robust workforce pipeline benefits both students and local businesses," said Walter G. Bumphus, president and CEO of the American Association of Community Colleges. "We are pleased to partner with Microsoft to help build a national workforce pipeline and directly support the nation's community colleges with industry developed curriculum and training that helps them to teach the skills needed for a career in the high demand field of cyber security. Community colleges are well positioned to help the technology industry train and hire a skilled and diverse workforce across the country."
Naria Santa Lucia, Microsoft General Manager for Digital Inclusion and U.S. Community Engagement added, "Community colleges are critical to expanding the cybersecurity workforce in the United States. We're proud to support the American Association of Community Colleges and these community colleges as they accelerate their cybersecurity programs."